Y'all are going to have to bear with me as I try to work out the details of this vanity design. I thought I had it the other day, but as I read your comments, I realized that I didn't have it. This is what I showed you the other day…
The plan was to have thin two pull-outs on each vanity (like the kind you see in kitchens used for spices and smaller items). On my vanity, the middle would consist of three drawers that would all be worked around the plumbing. And on Matt's vanity, the middle section would be a false front that opens to open room under the sink for his knees when he rolls his wheelchair close to use the sink. And then in the middle, I'd have a window seat where I can sit when I'm helping Matt (there's some "waiting around" time when I'm helping him, so I thought a place to sit would be nice) with a big drawer underneath.
Well, after reading your comments, I've completely scrapped this idea, and I've started over from scratch. 😀
First, my mom (who has those narrow pull-outs in her bathroom and has never been thrilled with them) pointed out that if Matt is sitting at his sink, he wouldn't be able to reach anything in those pull-outs. So drawers would be better for him. But I keep resisting the idea of drawers because they'd be so narrow, and I don't want those sections of the vanities looking like tiny drawers on an apothecary table. I liked the idea of pull-outs because those could have larger fronts that don't look so busy. But I do see her point. The pull-outs won't work for Matt.
And then there's the false front on Matt's vanity. In my mind, dealing with a false front on Matt's vanity didn't seem like a big deal. But after reading your comments, and giving it a lot of thought, I did have to wonder why I'm wanting to add something to the design that would create just one more thing I'd have to deal with on a daily basis. That one single thing might not be a big deal on its own, but added to the other hundreds of tiny obstacles and hardships that Matt and I have to work around every day, I had to wonder why I'm wanting to add one more.
So I started over. My problem was that I couldn't get past the idea of the vanities needing to look like vanities. I've searched "ADA compliant vanity" so many times, and I kept coming up with pictures like these…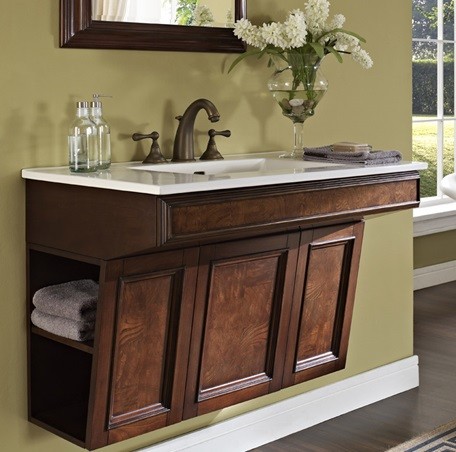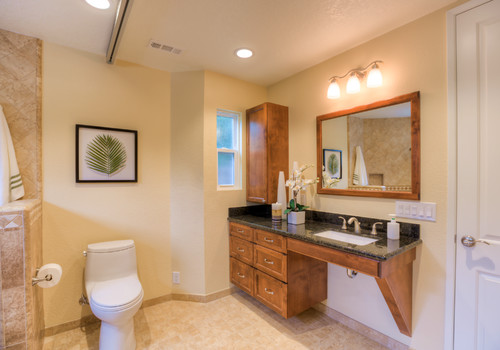 And that's just a no for me, especially with the space that we have. If I tried to do that open space under the sink with drawers incorporated, it would be a huge open space with tiny apothecary drawers on each side. I love Matt more than life itself, and I want to make his life as easy as possible, but I won't put a vanity like that in our new master bathroom.
But because those types of vanities were the ones I kept finding, I couldn't get my mind past that type of design — the kind that you'd see in an ADA-compliant commercial office building.
So I tried to completely clear my mind of any preconceived notions of what that vanity wall should look like. What vanity design could fit Matt's need for a totally open design where his knees could fit underneath without any hindrances, as well as fit my need for symmetry and a beautiful design?
The answer seemed quite obvious once I got away from my need for a vanity. What fits my need for style? And what's open underneath for Matt?
A wood table with turned legs converted into a bathroom vanity! How many times have I seen this over the years? How many table-to-vanity conversions have I seen other people do? And why in the world was this not obvious to me from the beginning?
It's because from the beginning, I googled "ADA compliant bathroom vanity" and from that point on, that's all I could see.
So I started googling and searching Pinterest, and came across so many ideas! You can find hundreds by googling and searching Pinterest for things like "table converted to bathroom vanity" and "table style bathroom vanity. But this photo from an online store called Brooke & Lou (a new-to-me store that I can't wait to look through…their stuff looks amazing) stopped me in my tracks…
I don't like the side pieces that extend up past the countertop, and we can't have the lower shelf. But if you boil that design down to the gorgeous turned legs and the single row of drawers (with the middle being a false front, and the two side drawers being useful for small things like toothbrush/toothpaste, contact lenses, saline solution, hair brush, etc.), then it's perfect!
Not only is it perfect, but it's fairly easy to build, also!
Obviously, if we have to vanities with so little storage, that means that I have to add convenient storage elsewhere. And that means that my built-in window seat needs to be traded for actual full-height storage (full-height meaning all the way up to the bottom of the window).
The more I thought about it, the more that seemed perfect to me. And honestly, I was fine with losing that iwndow seat. After I did that drawing the other day, this area bothered me.
That just looked funny to me. What would that even be? Just plain white wall? Would I add trim to match the wainscoting? Would I put some sort of upholstered back on the window seat? That space just seemed weird and unfinished to me, and any plan I could come up with to make it look finished seemed strange to me.
So sticking with the furniture theme, I want to forgo the window seat and build that center section so that it looks like a piece of furniture (a chest of drawers) used in the bathroom rather than looking like bathroom cabinets. I haven't quite worked that out in my mind yet, but I've been searching for different walnut trim that I can use. Since the vanity tables will be so leggy, I'd want the center "chest of drawers" section to be built all the way to the floor without any legs showing. It would have pretty walnut baseboard-type trim around the bottom — something like this.
As far as me having a seat to use during the waiting times while helping Matt, I can always build an upholstered ottoman that has casters on it and can be pulled around the room as needed. It can live under my vanity most of the time (that asymmetry doesn't bother me, and please don't ask me to explain why my brain works that way 😀 ), and I can pull it over to Matt's vanity while I'm helping him, or I can pull it over to the tub to place towel, clothes, and other items on when I want to take a bath. I think it'll be perfect!
So really, the hardest thing before me now is to pick out legs for the vanities. I don't want anything that looks too country or farmhouse. I'd like something that looks traditional with a slight lean towards transitional style. And they have to be walnut. That's not an easy bill to fill, but I've found a couple on tablelegs.com. That's always my go-to place for turned legs and columns. And as of this very moment, these are the legs that I'm leaning towards.
I've looked through their selection several times now, and those seem to be the ones I keep gravitating towards. They're traditional without a farmhouse look, and they're simple enough to be kind of transitional in style rather than over-the-top traditional. That's my take on them, at least. 😀
But as you can imagine, turned walnut legs are expensive (these are just under $150 each), and I need eight of them. So I want to be very sure that I'm selecting the right ones.
Addicted 2 Decorating is where I share my DIY and decorating journey as I remodel and decorate the 1948 fixer upper that my husband, Matt, and I bought in 2013. Matt has M.S. and is unable to do physical work, so I do the majority of the work on the house by myself. You can learn more about me here.
I hope you'll join me on my DIY and decorating journey! If you want to follow my projects and progress, you can subscribe below and have each new post delivered to your email inbox. That way you'll never miss a thing!