I bought some new mirrors for our home gym, out of the three different mirrors I've purchased in the last year, these are the absolute BEST mirrors ever! And the price was very reasonable. So I'm excited to pass this info along to those of you who also struggle with purchasing mirrors online.
I've realized that buying mirrors online is such a challenge because the important part of the mirror is the frame, and yet the frame takes up the smallest area of the overall mirror. Generally, online listings of framed mirrors focus on the overall view of the mirror rather than close up views of the details of the frame. So when the framed mirror arrives, I'm often left disappointed because those details weren't obvious in the online listings.
So let me show you the details of the three mirrors I've purchased lately.
Moroccan Arch Mirror
Overall, I would rate this mirror a 7 out of 10.
I bought two of these mirrors for our new master bathroom, and I bought them from West Mirrors. Our mirrors are the medium size in the gold finish that costs $244.00.
I wasn't thrilled with the finish. It looks much darker than it did in the listing on the West Mirrors website. But I'm a DIYer, so I can remedy that if it needs to be changed, but I'll make that decision once the vanities are finished.
So while the color is easily remedied, the actual workmanship that went into the mirror isn't so easily remedied. There's a small gap between the frame and the actual mirror. I'm pretty sure I'll need to fill that with clear caulk before these mirrors are actually used as vanity mirrors, because I can just see water and toothpaste and other things getting down into that little gap.
I was also surprised to see how the frame is put together. If you look at the area with the arrow, you can see sunlight coming through between the mirror and the frame.
And that's because the frame is in two pieces, with those two pieces soldered together every few inches. But that leaves open areas where light shines through.
They're still very pretty, heavy mirrors. I just wish they had been designed/assembled differently so that there aren't gaps between the frames and mirrors, and so that the actual frame looked like one solid piece.
I'm still pleased with them, and I'd recommend them as long as people are aware of what they're purchasing and how they're designed.
Tall Arched Wall Mirrors
I bought two of these framed mirrors to hang on the entryway wall. They're 16″ x 48″ in a gold finish, and they were $220.99 each. You can find them here. Overall, I would give these an 8 out of 10.
I like the mirrors overall. They're heavy, and the frames are a very nice color. This is more what I expected the bathroom mirrors to be.
The part that I wasn't thrilled with is that the frames don't sit on top of the mirrors. Instead, the mirrors are cut to fit inside the frame, and there's a visible little gap between the mirror and the frame.
And that gap isn't uniform all the way around the mirror. You can see at the top that on the left side, it's a smaller gap that the one on the right side.
This is another mirror that I would still recommend as long as the purchaser is aware of what they're getting. I do like that the outside of the frame is one solid piece, which I think looks very nice.
Tall Rectangle Floor Or Wall Mirror
These are the newest mirrors that I've purchased, and THEY ARE AWESOME!!! These get a 10 out of 10 from me.
I bought two of these mirrors on Amazon (you can find them here) for our home gym. I searched all over for tall rectangle mirrors, and I finally settled on these 65″ x 22″ mirrors.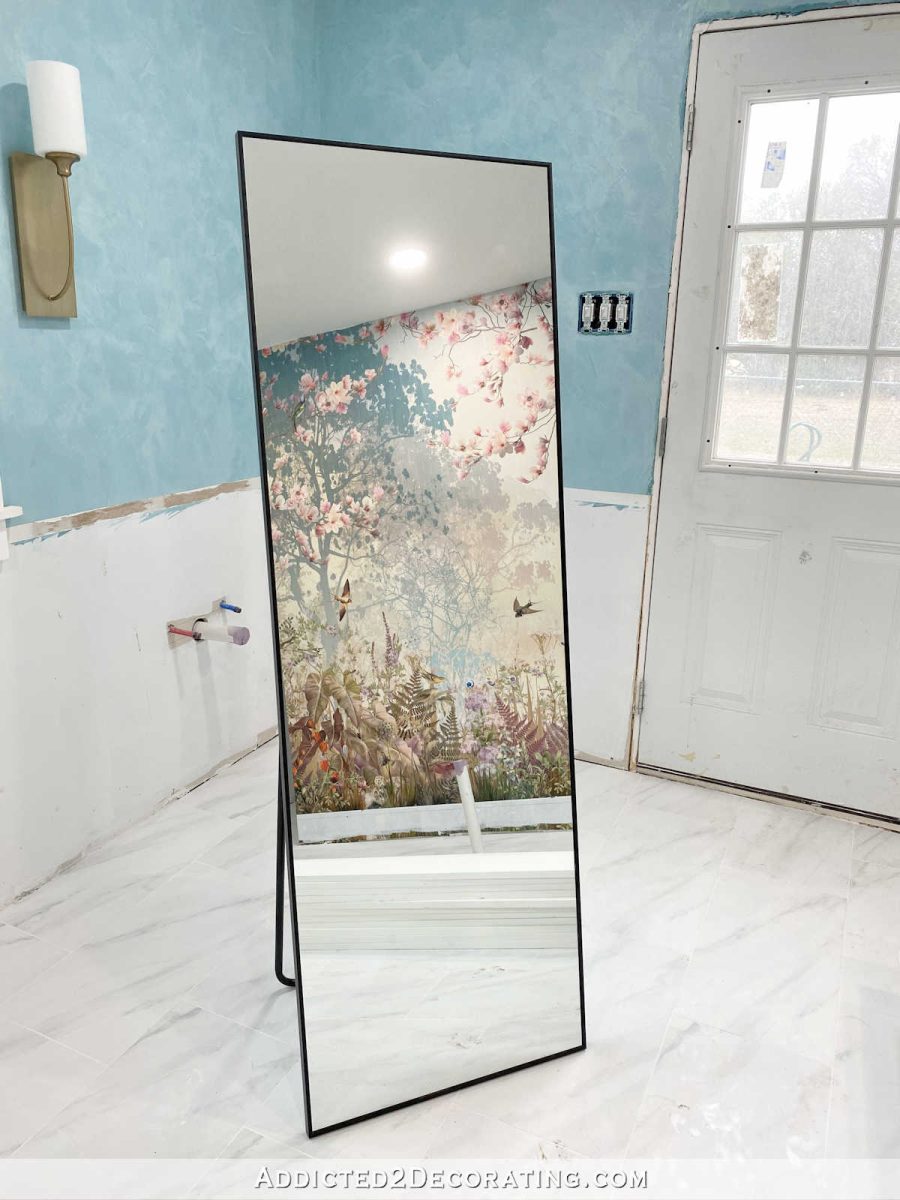 I wanted mirrors with thin black metal frames, and these are perfect. The frames sit flat against the mirrors with no gaps, and the mitered corners on the frames are very well done. And the best part is the price — $139.99. After finding mirrors that were in the $300-$450 range, I was thrilled to find these, and even more excited once they arrived and I saw how great they looked.
The framed mirrors come with attached stands so that they can stand on the floor without having to lean on the wall.
But if you want to hang the mirror on the wall (which I plan to do in our home gym), the stand can be removed by unscrewing four screws.
These mirrors come in a wide variety of colors and sizes, and while I can't speak about the others, I can say that these 65″ x 22″ mirrors with the black aluminum frames are fantastic.
Based on my own experience with purchasing mirrors online, I can say that it's a challenge! I try to rely quite a bit on customer reviews, but even then, you never really know for sure what you'll get until you have it in hand. But at least with the mirrors I've purchased so far, I've never been thoroughly disappointed in any of them. Yes, there are things I wasn't expecting with two of them, but I think they still look nice. I've not been so disappointed in any of them that I felt compelled to return them. I do wish that some of these online listings would focus more on the details of the frames than the overall look of the mirrors, though.
Probably the most amazing thing is that with these mirrors that I've ordered online, I've never gotten a broken one! That really shocks me. I've bought six mirrors online in recent months, and all of them have arrived intact.
Addicted 2 Decorating is where I share my DIY and decorating journey as I remodel and decorate the 1948 fixer upper that my husband, Matt, and I bought in 2013. Matt has M.S. and is unable to do physical work, so I do the majority of the work on the house by myself. You can learn more about me here.
I hope you'll join me on my DIY and decorating journey! If you want to follow my projects and progress, you can subscribe below and have each new post delivered to your email inbox. That way you'll never miss a thing!