I've been under the weather for the last couple of days, so I haven't gotten any more work done on the bathroom (or anything else). That means that my kitchen organizing that was supposed to be done today is going to take a couple more days. In the meantime, I've been wondering… What color should I paint my bathroom doors?
Y'all know that I'm not really a fan of white doors. When it comes to interior doors, my rule is basically "A.B.W." — anything but white. 😀 There are rare exceptions, obviously. The French doors that used to be on the pantry were white…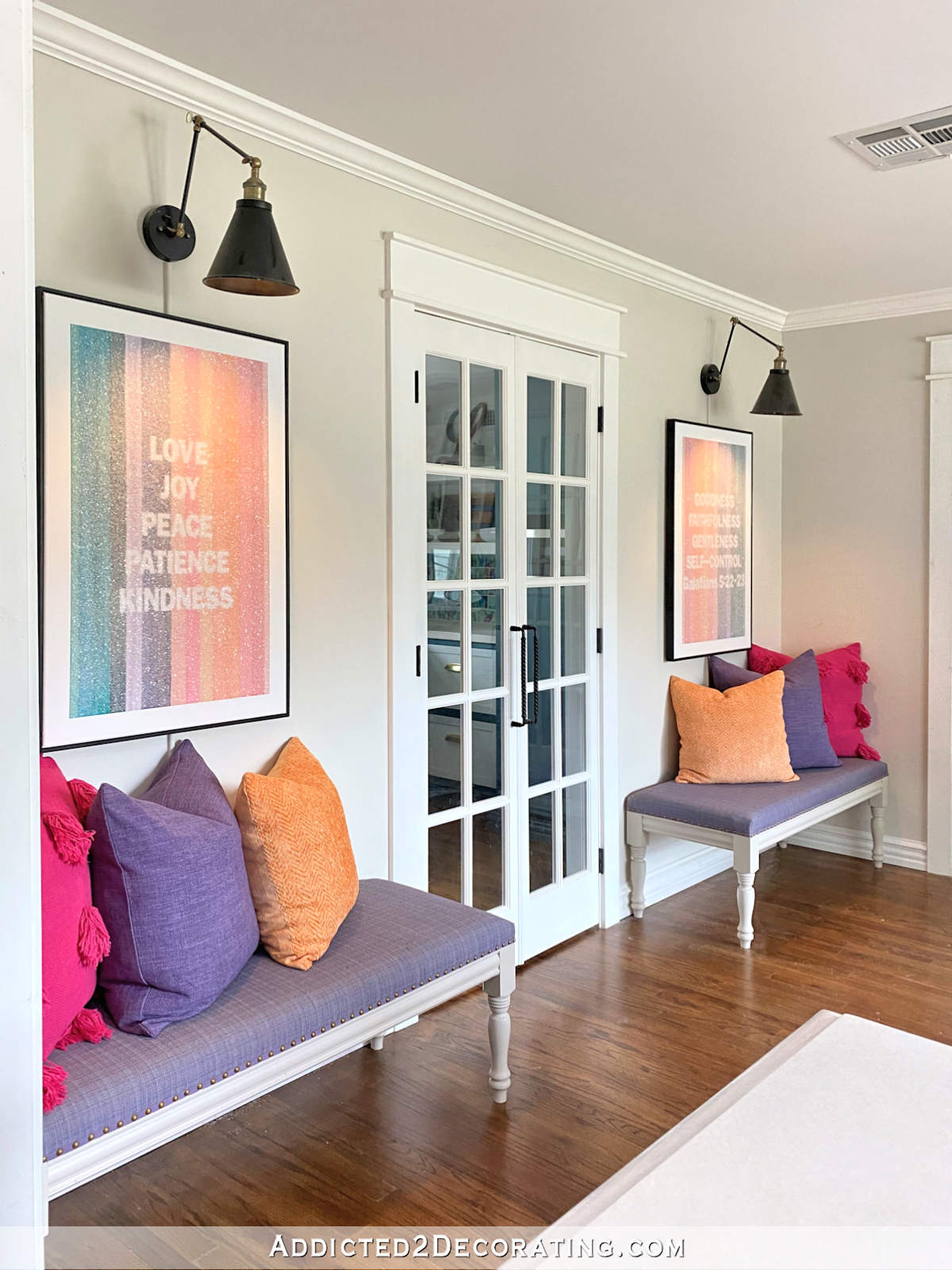 And while those doors are gone now (I removed them so that my colorful pantry wasn't hidden behind doors), the door leading from the sitting room into my studio is still white.
I don't see myself painting that door in a different color simply because I think it looks nice in white next to the white shelves filled with white frames. So that's one of the rare cases when I actually prefer a white door.
But the rest of the doors in our home are teal, including the front door…
The music room doors…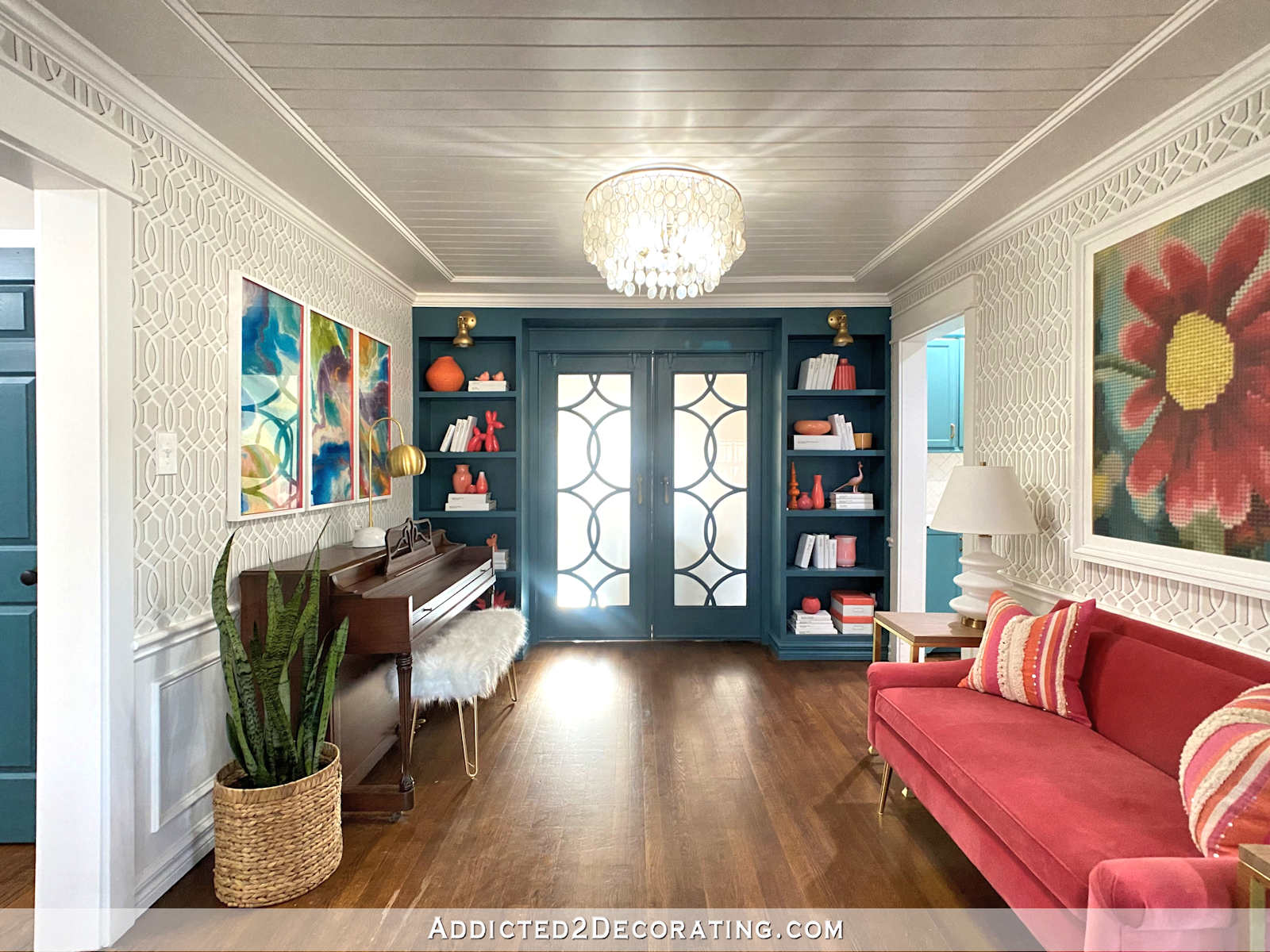 And the bedroom and bathroom doors in the hallway…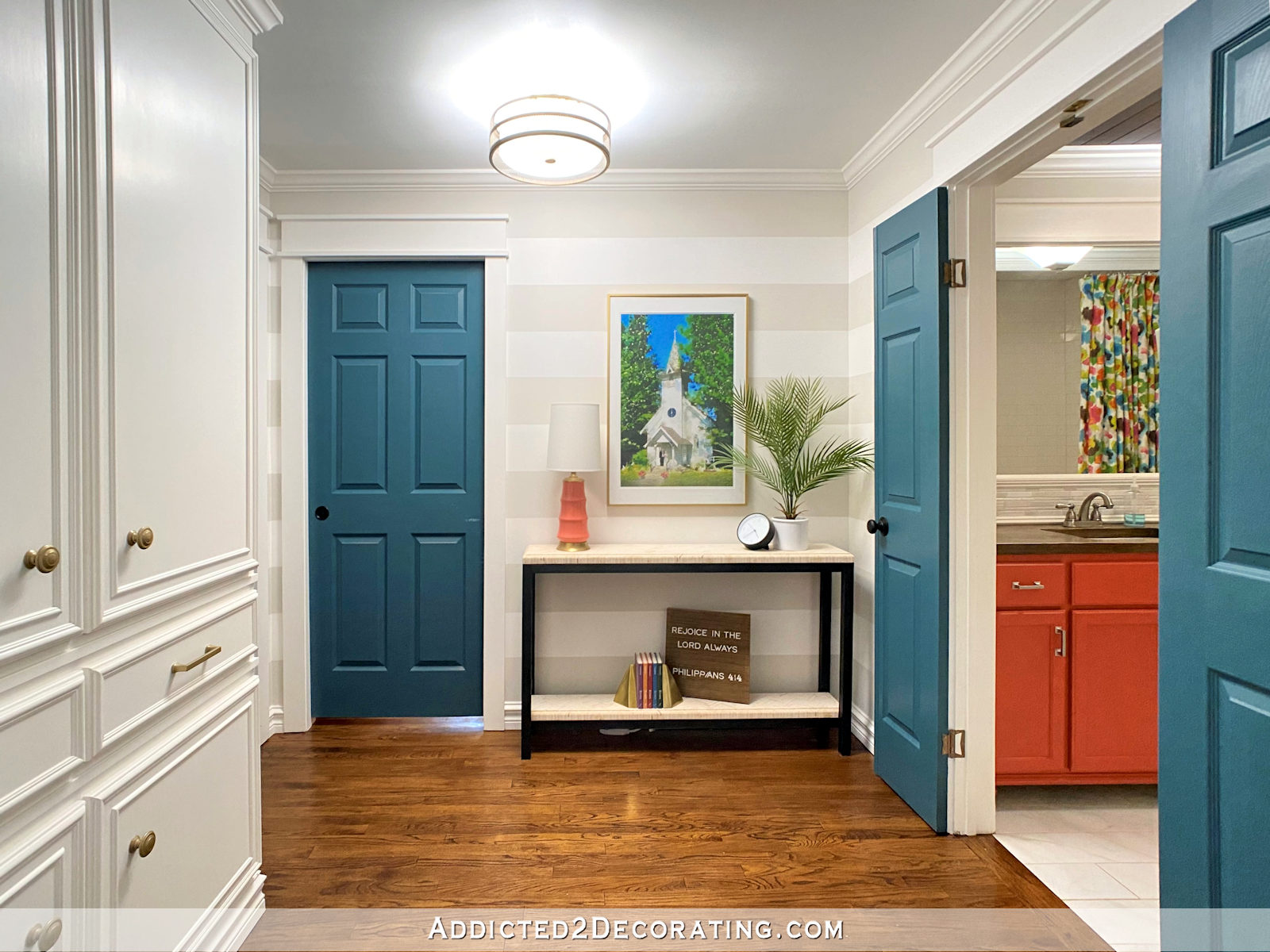 So I'm definitely partial to doors that are anything but white. And that brings me to the master bathroom doors.
For now, there's only one door in that bathroom, and that's the exterior door that leads to the back yard.
I don't love that door in the bathroom, and if I had my druthers, I'd swap it out for a 15-lite exterior door. I still may do it, but as of this moment, I'm not planning on it because it seems like a waste of money. This door will eventually lead to our master bedroom, and at that time, this doorway will have a 15-lite interior pocket door. The door that I will soon install between the bathroom and our home gym is a 15-lite interior pocket door.
So for now, the doors will be different, but they'll be painted the same color, and they're located directly across from each other. In the future, both doors will be matching 15-lite interior pocket doors, still painted the same color, and directly across from each other.
For now, the color is the question. I'd rather they not be white, because as I've established, I'm not a white door kind of person. But if I simply can't find another color that will work, I'll obviously have to make peace with white. So let me show you a few colors I've considered. And keep in mind that any color I use on the doors absolutely must complement the mural.
Because it's my go-to color, and I love consistency throughout a home, the first color I tried was the dark teal from the hallway doors.
I don't hate it, but I don't know that I love it. I like it a whole lot better on a 15-lite door, though.
My second go-to color for doors is always black. While I prefer teal in general, I think black doors always look very classy. But once again, I don't love it on the current door…
But I absolutely LOVE it on a 15-lite door! Look how classy this looks!!
Since the mural has so much brown in it at the bottom, I tried a dark brown as well.
I don't dislike it, but I think with the browns in the mural, and then the walnut wood spanning the entire vanity wall, more brown on the doors may be too much brown.
And finally, I decided to do something way out of the norm for me and try a very light pink. That mural has quite a bit of pink in it, so I thought trying it couldn't hurt.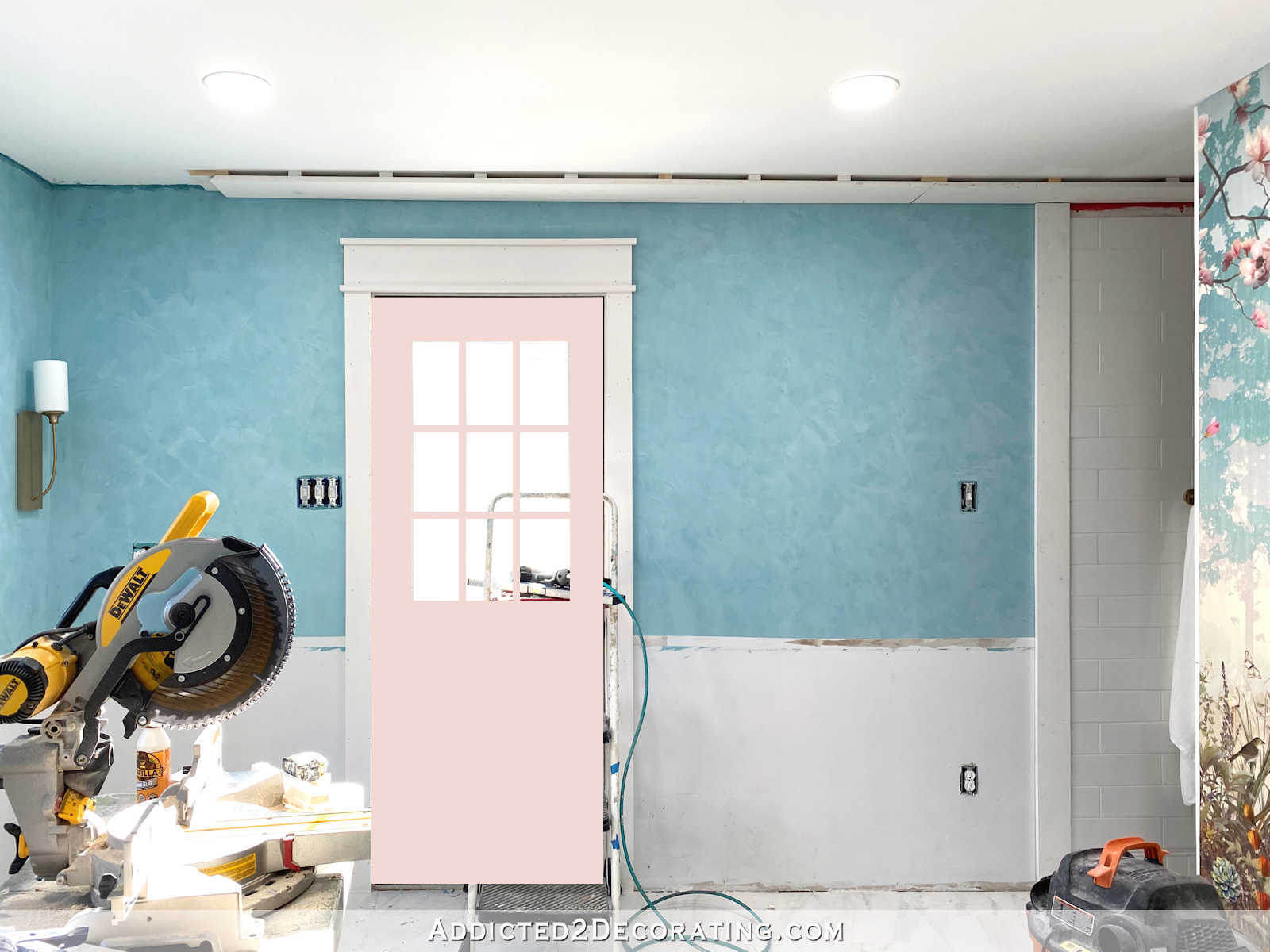 I don't hate it, but I do think that the pink door with the wall color looks a bit too precious. A bit too "Easter dress". And while I love all kinds of colors, I don't like things looking overly "precious" and pastel and feminine, no matter how much I love pink.
So as of this very moment, I'm leaning towards black. And as much as I wish this door were a 15-lite door, I just don't know if it's worth paying $400 for a temporary door. I already have the 15-lite interior door that will eventually go here (which will have to be in storage until we build the addition), so I should probably just save my money and wait.
But in the meantime, I want to make a decision on these bathroom door colors.
Addicted 2 Decorating is where I share my DIY and decorating journey as I remodel and decorate the 1948 fixer upper that my husband, Matt, and I bought in 2013. Matt has M.S. and is unable to do physical work, so I do the majority of the work on the house by myself. You can learn more about me here.
I hope you'll join me on my DIY and decorating journey! If you want to follow my projects and progress, you can subscribe below and have each new post delivered to your email inbox. That way you'll never miss a thing!