Alright, folks! Today, we're going to see if we can help Cathy with her craft/creative room.
Cathy's question:
I am an empty nester, a picture book author, seamstress and crafter. When I am not working on my writing, I like to quilt, sew things for my grandchildren and get crafty. We use one extra bedroom as our guest room/office and the second bedroom I use as my creative room. I am at a loss on how to best set up my creative room so it is inspiring and functional.  At some point we may move down the road, so do not want to put too much money into this.
The room is roughly 11′ x 11′. 
I have a table in my dining room (38″x 62″) that I would like to move into this room to use as a work table. It has the charming wood I like and has leaves I can pull out as needed.  I am torn about it though. The room is not huge and I would love a small comfy chair to read in.
Lighting is non-existent. I have asked my husband to have a light put in the ceiling so when I walk in the room it is light, but I do not like the small "boob" lights. Ideas on lighting? 
I have a magnetic board and a peg board to use. Would love some more ideas on using a peg board. I would consider painting it to add a pop of color. 
I love having picture books, quotes, family pics around me to inspire, but also don't want this to be cluttered.  
I love color and nature and natural things and most of my art in the adjoining LR is of nature.
I would like a colorful artsy rug in the room and am torn as to what size.  A 8'x10 would fill the room, or should I just have a smaller one under the table? 
The racks have been handy for storage and I would like to keep them- I wonder if you have a clever hint on how to hide the "stuff. Was wondering about some kind of fabric curtain?  How do you get the most from your storage racks? Ideas?
I just bought this book shelf and was thinking it would work well to hold my picture books I use for reference. I can still hang art above it. 
I have a new serger, sewing machine, etc.  – trying to figure out where to put them. 
I use the adjoining guest room as a place to write so I do not necessarily need room for a computer. 
If possible, would love a reading chair.
Here's Cathy's creative room:
Right now, she has a peg board holding various tools right next to the window, and a magnetic board on another wall. She also has a rather small table under the pegboard.
The room has one window in it…
And here's what it looks like from the hallway…
Right now, this pegboard is the only thing on this wall…
And then these are her storage shelves on the wall next to the door from the hallway…
She also provided this layout showing how this room relates to the other rooms around it…
And this is the table that she'd like to use in the room…
My suggestions:
First and foremost, I would suggest pulling everything out of this room and painting the walls in a color that inspires you. (If the current color is what inspires you, then stick with it, of course!) But since this is your creative room, I wouldn't feel obligated to make this room "flow" with the rest of the house. Don't limit yourself to that. What we do in our homes where we go to relax isn't always the same as what we need in our craft/creative spaces to inspire creativity. And when not in use, you can always keep the door closed if it doesn't flow with the rest of the house.
But first and foremost, do what inspires creativity. That's what this room is all about. So if you're inspired by bold colors and patterns, then add that to the walls…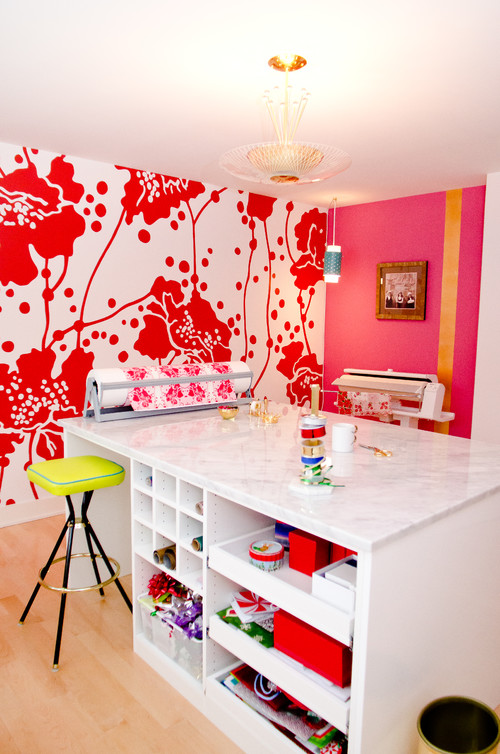 If a more calming environment filled with nature-inspired colors and natural textures inspires you, go with that…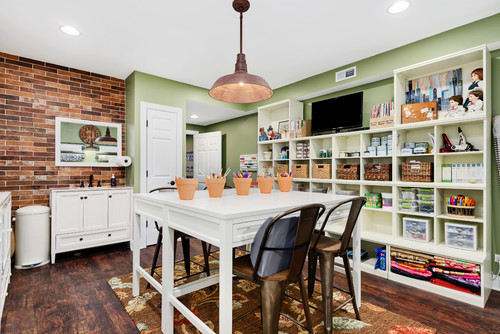 Or if the current color was chosen specifically because it inspires creativity in you, then stick with it. But my main point is that you shouldn't feel limited to what's going on in the rest of the house. Not for a creative space.
My second suggestion would be to remove the storage shelves. I know you said you wanted to keep them, and as a fellow crafter/creative, I know how important shelves and storage are, but hear me out. 🙂
I think the open wire shelves being so filled up, and so tall, feel very imposing in the room. It feels chaotic, which of course, is not a good feeling when trying to inspire creativity. And I don't envision that hanging curtains around it would help. Curtains might cover up the stuff, but I think those, too, would feel quite imposing in the room. I think that you can probably come up with a much better solution for storage that doesn't feel quite so overwhelming.
I would consider two different options. The first option would be to replace the open wire shelving with something that can look more built-in, and that has doors that can close. For example, the IKEA Pax wardrobe system.
That way, all of the things you need to keep and have organized in the room can stay behind closed doors, giving you easy access to it, while not contributing to a cluttered creative space that will end up stifling creativity
However, if this were my room, I would move all of the storage to the window wall. I would build or buy cabinets with doors and drawers that could go all the way across the window wall, like this (forgive the horrible perspective of the copy and paste cabinets)…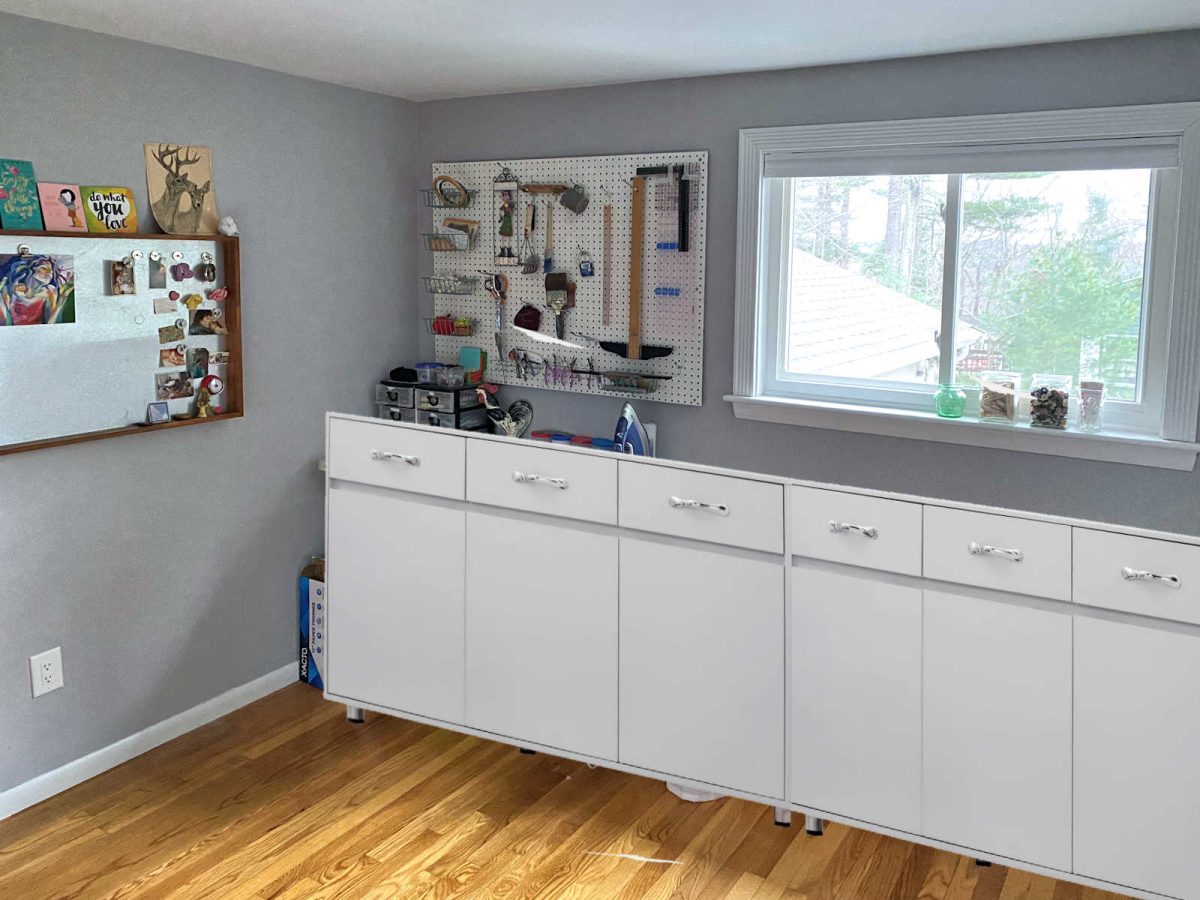 And then where you currently have your pegboard, I would build up and fill that entire space with additional storage. It can be an open shelf bookcase where things are stored in pretty baskets, or it can also be storage with doors that can close. But I'd fill up that entire wall, as much as possible, with storage, leaving only enough room on the right side as is needed to access the closet. The rest would be storage. The top of the cabinets under the window could be where you store your sewing machine, serger, and any other similar items that you'd like easy access to, but don't necessarily need set up to use all the time.
The good thing about this type of storage is that it's not actually built in, so it can easily go with you to the next house, and to your next craft/creative room. And you'll always have need for storage in a room like that, so you'll have need of it anywhere you go.
And then on this wall, I would keep your magnetic board, but I would make it bigger.
Much bigger. Turn it into a huge three- or four-section magnetic board, cork board, chalkboard wall. Use a colorful frame around the whole thing, and keep all of the things that inspire you (like the items that are currently sitting on top of the magnetic board) within the framed area of your much larger board area. That way you can still have the things you love, but it will feel more contained and give the area a calmer look. I mean, just make it a feature on that wall.
And then that would leave this wall that you could turn into your main work area.
I don't have measurements for this wall, but I'm pretty sure that your table would fit on that wall as your main work surface in the room. Then your pegboard could be relocated to this wall above the table so that you have all of your tools handy right above your work surface. And you'd even have room for a much larger pegboard if that would be helpful for more storage.
Unfortunately, with everything it looks like you need/want to store in this room, as well as the table that you want to use, I don't see how you could fit a reading chair in here. The only thing I know to suggest is to find a desk chair to go with the table that is really comfortable, and that you would enjoy sitting in while reading. Other than that, I don't see how a separate reading chair could work unless the reading chair is a big enough priority for you to want to scale down the other things that you want to have in the room.
So basically, this is how I would suggest arranging the room…
That's the arrangement that makes the most sense in my mind. It allows use of the table without it being crowded by, or feeling off balance by, the window, which it would be if you place it where the current table is. It gives you lots of room for storage, while at the same time, bringing a whole lot of that storage down to countertop level and below, making it more accessible and not allowing it to feel so imposing in the room. And it gives you lots of room for bulletin board display and pegboard storage as well. And it gives you one dedicated wall that is the workspace in the room.
EDIT: The reason I didn't suggest the main worktable be placed below the window to take advantage of the natural light is because the window is too high, and the worktable (which would be around 30 inches high if you're using a dining table) would be too low to take advantage of any direct natural light coming in that window. In the picture of the room showing that wall, you can see the shadow being cast on the floor by the wall blocking the natural light coming in through that window. That shadow would be on any worktable that sits under that window.
With proper lighting in the room (task lighting, general lighting, etc), you will have plenty of lighting for any task you would need to work on. If your window was taller, and your worktable could actually be in front of the window (like my little desk in front of the window in our bedroom), and not just be sitting against a solid wall under a high window, then I would absolutely suggest putting the worktable on that wall. But since that's not the case, I would move the worktable to the other wall and make sure you have really good lighting of various types in the room.
Alright, folks! What suggestions do YOU have for Cathy?
(Are you stuck with a DIY or decorating problem and want input? Click here to submit your question. I post/answer the questions in the order that they're received, so please don't send questions if your contractor is on the way to your house right this minute and you need immediate advice. 😀 }
Addicted 2 Decorating is where I share my DIY and decorating journey as I remodel and decorate the 1948 fixer upper that my husband, Matt, and I bought in 2013. Matt has M.S. and is unable to do physical work, so I do the majority of the work on the house by myself. You can learn more about me here.
I hope you'll join me on my DIY and decorating journey! If you want to follow my projects and progress, you can subscribe below and have each new post delivered to your email inbox. That way you'll never miss a thing!