I had to make myself sit down and finalize some decisions about the vanity wall design this weekend. My design ideas for this wall have gone through quite a change since the very beginning of this bathroom project.
Originally, I had planned on full vanities with a false front on Matt's that could be opened for him to wheel up to in his wheelchair. And then I had planned a window seat in between the vanities. That would have looked something like this…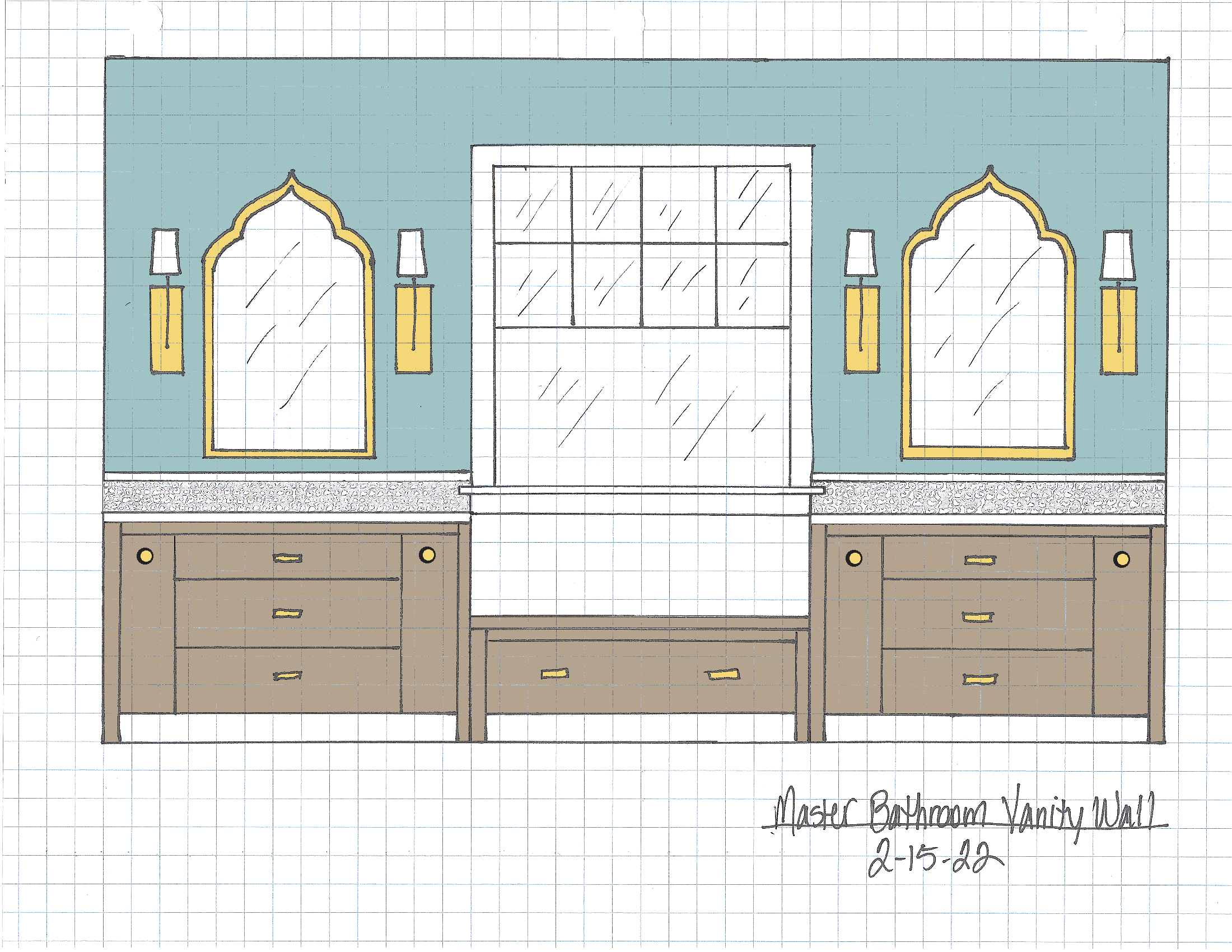 But along the way, I decided that (1) I needed to make things easier for Matt with an open design, and (2) I didn't like the awkward space between the window and the window seat. What would go there? The same tile that I use on backsplash? Just a plain white wall? Trim to match the wainscoting? It was just an awkward space.
But really, the main issue was that I needed to make things easier for Matt…and frankly, for me too, since he needs my help with pretty much everything.
That's when I decided to go with open tables for the vanity design, and then instead of the window seat, I would build a dresser for our storage. I ordered the legs for the vanities, and then started gathering all kinds of ideas for the dresser design, and that's pretty much where things stopped.
So this weekend, I made myself sit down and make some decisions.
Do I want the vanities the same height as the dresser, with one long, continuous countertop all the way across the 12.5-foot-wide wall?
Do I want drawers in the table-style vanities, or will the dresser be enough storage?
Do I want to add gold accents on the drawers of the dresser, or just leave it solid walnut?
If the dresser is taller than the vanity tables, so I want a walnut top, or a top to match the vanities?
How many drawers do I want on the dresser? And will they be wide drawers the width of the dresser? Or will it be cut in half so that Matt can have his side, and I can have mine?
What details do I want on the dresser, if any? Will it have trim, or will it be plain?
What about the bottom of the dresser? Will it have feet? Or will it sit flat on the floor?
These are decisions I've been putting off for a long time now because making a commitment on those details makes me nervous. But I finally did it. And unless I change my mind, here's what it will look like.
First, this vanity from Kara Nicole Clark on Instagram became my main inspiration. I had collected all kinds of inspiration pictures, but I kept going back to this one.
And here's what our new vanity wall design will look like…
The real legs aren't as bulky as they ones in my drawing. 😀
So here are my decisions on those questions:
I do not want a long, continuous countertop. I want the dresser to be higher than the vanities.
I do want drawers in the table-style vanities. There won't be a middle drawer, for obvious reasons. But I do want a small drawer on either side for small things — toothbrush, toothpaste, contact lens case, saline solution.
I don't want gold accents. I love the look of the vanity in the picture above.
As of right now, I think I want the top of the vanity to have a walnut top so that it actually looks like a piece of furniture. That's something I can always switch out later if I change my mind.
I decided that I want the dresser to have my side and Matt's side. At least for now, that's what I want. It may end up with wide drawers, but drawers that are 45 inches wide just seems too much.
I do want the drawers to be trimmed out just like the ones on the vanity in the picture. It's simple, but so very pretty.
I don't want to have to clean under the dresser, so I want it to sit flat on the floor with pretty trim around the bottom.
The decisions are made, and I feel good about it. Now I just need to order some trim, and I'll be ready to start building soon!
Addicted 2 Decorating is where I share my DIY and decorating journey as I remodel and decorate the 1948 fixer upper that my husband, Matt, and I bought in 2013. Matt has M.S. and is unable to do physical work, so I do the majority of the work on the house by myself. You can learn more about me here.
I hope you'll join me on my DIY and decorating journey! If you want to follow my projects and progress, you can subscribe below and have each new post delivered to your email inbox. That way you'll never miss a thing!