Have y'all discovered the awesomeness that is downloadable printable artwork yet? I was just looking around at all of the colorful artwork that fills my home yesterday (something I do often, because I LOVE being surrounded by all of this color and pattern), and I realized just how much of the artwork that fills my home is artwork that I downloaded and either printed myself or had printed locally. Just on the sitting room shelves alone, I have nine pieces of downloadable printable artwork…
I recently added more to this corner of the kitchen…
And then I have this set of four in the hallway…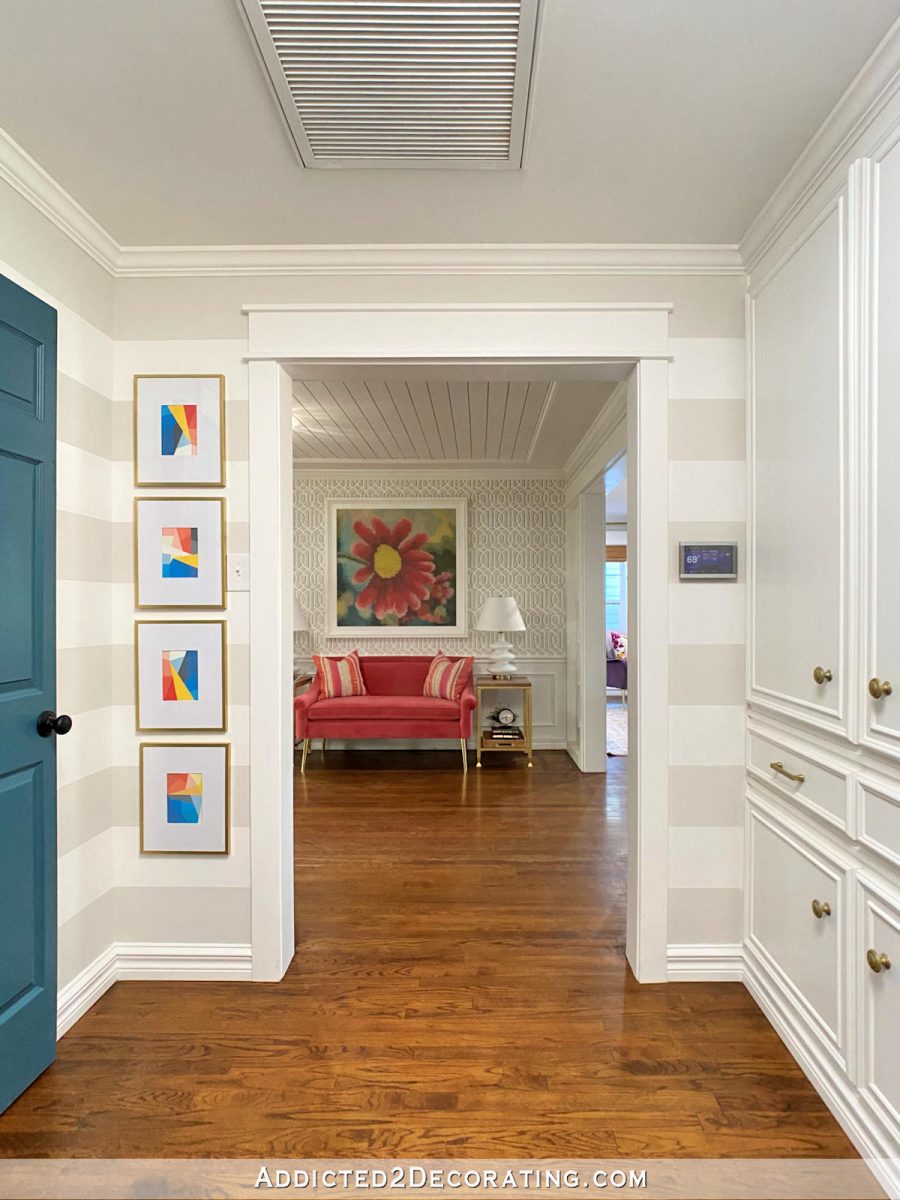 All of those were downloaded from one place — Etsy. If you love immediate gratification, I can't even tell you how satisfying it is to decide that I need a piece of framed artwork somewhere, and within 30 minutes, I can have something selected, printed, framed, and hung on my wall. Or if the size I want is too big for me to print it at home, I can generally have it within the hour (or most certainly by the end of the day) by sending the file to a place like Walmart or Walgreen's to be printed.
If you haven't yet discovered or fully explored the excitement and immediate gratification of downloadable printable artwork, let me show you where you can start your search. I'll highlight some of my favorite Etsy stores, and then leave a few more links at the bottom.
But let's start out with my absolute favorite Etsy store for downloadable printable artwork…
I have three prints from Lisa Nohren Designs on my sitting room shelves.
And she has something to offer for just about every color scheme, style, etc. And what I love about her artwork is that all of her artwork seems to be in series, so if you have a space where you'd like two or three coordinating prints, they're easy to find. For example, this navy blue and white abstract series…
Or this watercolor leaf series…
Or this blue and white botanical series…
Or this black and white series…
But she has so much more. You can probably spend a couple of hours just perusing all of her artwork, and you're almost certain to find something that will work in your house. And then just pay, download, print, frame, and hang! Immediate gratification!
This is the store where I got the watercolor botanical prints that are now hanging in m kitchen, and there are so many to choose from. I love that they offer actual sets for one price. My set of three came together for one price.
And there are many different styles. For example, if you like boho mid century inspired artwork, they have you covered…
I have one print from this store on my sitting room shelves as well. You might recognize the geometric print on the right in the picture below…
But they also offer so may different categories of prints. For example, check out these ocean and beach prints. Several of these would make a great gallery wall, and the prices are amazing, especially if you don't need anything bigger than an 8″ x 10″ and can print them at home.
Here are a few more that you can check out:
Anyway, if you haven't yet looked into this option for inexpensive artwork for you home, you really should! There's no longer any need to pay lots of money for artwork. My home is filled with these inexpensive downloadable prints, and I absolutely love the color they add to my home, and I also love that there's no guilt if I want to change them out frequently.
If you're looking for FREE artwork that you can download and print, don't forget about this AMAZING SOURCE (The Biodiversity Heritage Library) for free nature illustrations (botanicals, birds, butterflies, and so much more) that I shared a few years back. This is where I got my bird illustration prints that are in then entryway.
Addicted 2 Decorating is where I share my DIY and decorating journey as I remodel and decorate the 1948 fixer upper that my husband, Matt, and I bought in 2013. Matt has M.S. and is unable to do physical work, so I do the majority of the work on the house by myself. You can learn more about me here.
I hope you'll join me on my DIY and decorating journey! If you want to follow my projects and progress, you can subscribe below and have each new post delivered to your email inbox. That way you'll never miss a thing!