Have you seen the movie Groundhog Day with Bill Murray? I feel like I'm stuck in that movie right now. I'm at the trim stage of the master bathroom, which always takes way longer (and many more days) than I think it's going to take when I begin installing the trim. All of the finishing work — wood filling, sanding, caulking, priming, and painting — just seems to drag on with no end in sight. But yesterday, I finally got the last of the sanding, caulking, and priming finished, including finishing up the repair on the ceiling in the main part of the room (the shower ceiling isn't finished yet), and I was finally able to get to my favorite part — the painting.
Having taken all of that time doing all of that prep work, it's always to incredibly satisfying when I'm finally able to start painting and seeing just how much all of that prep work pays off. The painting is still in progress, and it will probably take me a couple more days of work to get it finished.
I'm always so amazed at the huge difference between primer and paint. You can see the huge difference in the picture below, where the trim on the side wall is painted, but the trim around the mural wall is only primed. The primer is so stark white, but the painted trim (Behr Polar Bear) looks bright and clean without looking harsh. It has just a slight touch of warmth to it.
I've used Behr Polar Bear for my trim color since our condo days. I selected it when I did the condo kitchen remodel, and the reason I went with Polar Bear is because it went the best with the Daltile subway tile that I used on the kitchen backsplash. Once I selected it way back then, I loved it so much that I just stuck with it. And here I am today, almost a decade later, using white Daltile tile in our master bathroom remodel, and using the same trim color to match. You can see above just how beautifully the Behr Polar Bear goes with the white Daltile tile.
When it comes to choosing which sheen to use, I break from tradition. The standard paint sheen that is generally used on trim is semi-gloss. But if you've been reading my blog for long, you know my issues with sheen. I don't like shiny paint (unless it's supposed to be super shiny, like a beautifully and perfectly lacquered piece of furniture). So on my trim, I always use satin sheen. It's still easy to clean, and it's still very pretty without the shine of semi-gloss. (I had just painted the trim in the photo below, so it was still wet. That's why it's shiny.)
And then for my walls, my go-to sheen depends on the brand of paint that I use. If I want a reasonably-priced paint, I choose Behr Premium Plus in an eggshell finish. If it's a room where I want to use a higher quality paint, or if I'm using a really dark color and don't want any shine at all, then I use Benjamin Moore Aura in a matte finish. And example of where I used that would be the dark teal entryway wall. I didn't want any sheen at all on that wall, so I needed a matte finish, and Aura is the absolute best, in my humble opinion.
But back to the bathroom trim, I just love how the Polar Bear looks with the tile. I'm anxious to get the trim on the mural wall painted! It's so stark white that it almost looks blue.
The interesting thing about Behr Polar Bear is that while I think it looks amazing on trim, and it's the only trim color I've used in over a decade, I don't think it works on ceilings at all. So when I want a bright white ceiling, I always use Behr Pure White flat ceiling paint. I've made the mistake on a couple of occasions of using Polar Bear on drywalled ceilings, and it was awful. At certain times of the day, the ceilings looked like a very light pink. Although these days that might not be so bad since I love pink now, but I still prefer a true white with no undertones on my ceilings.
The one exception is the music room. Since my ceiling in there is a wood slat ceiling, and it's pretty much an extension of all of the trim work in the room, I carried the trim color onto the ceiling.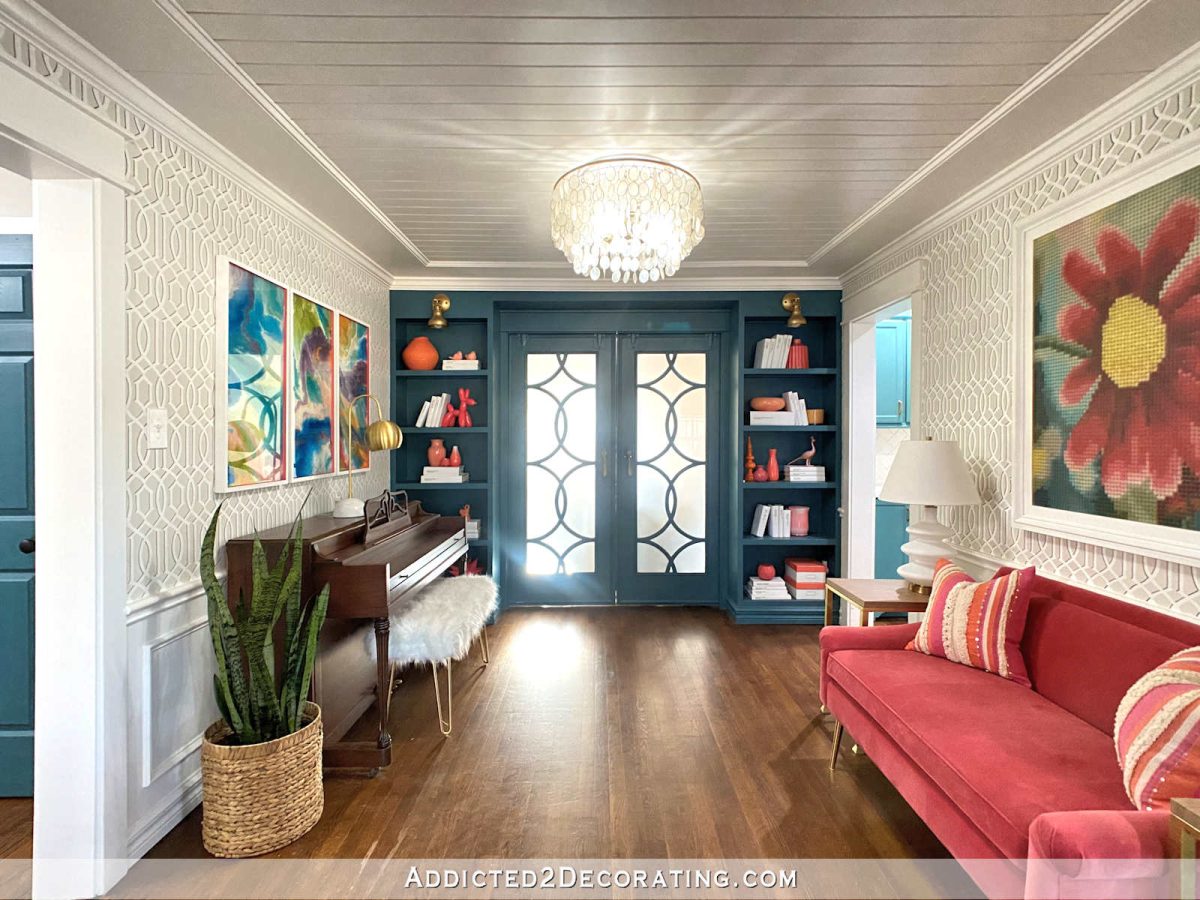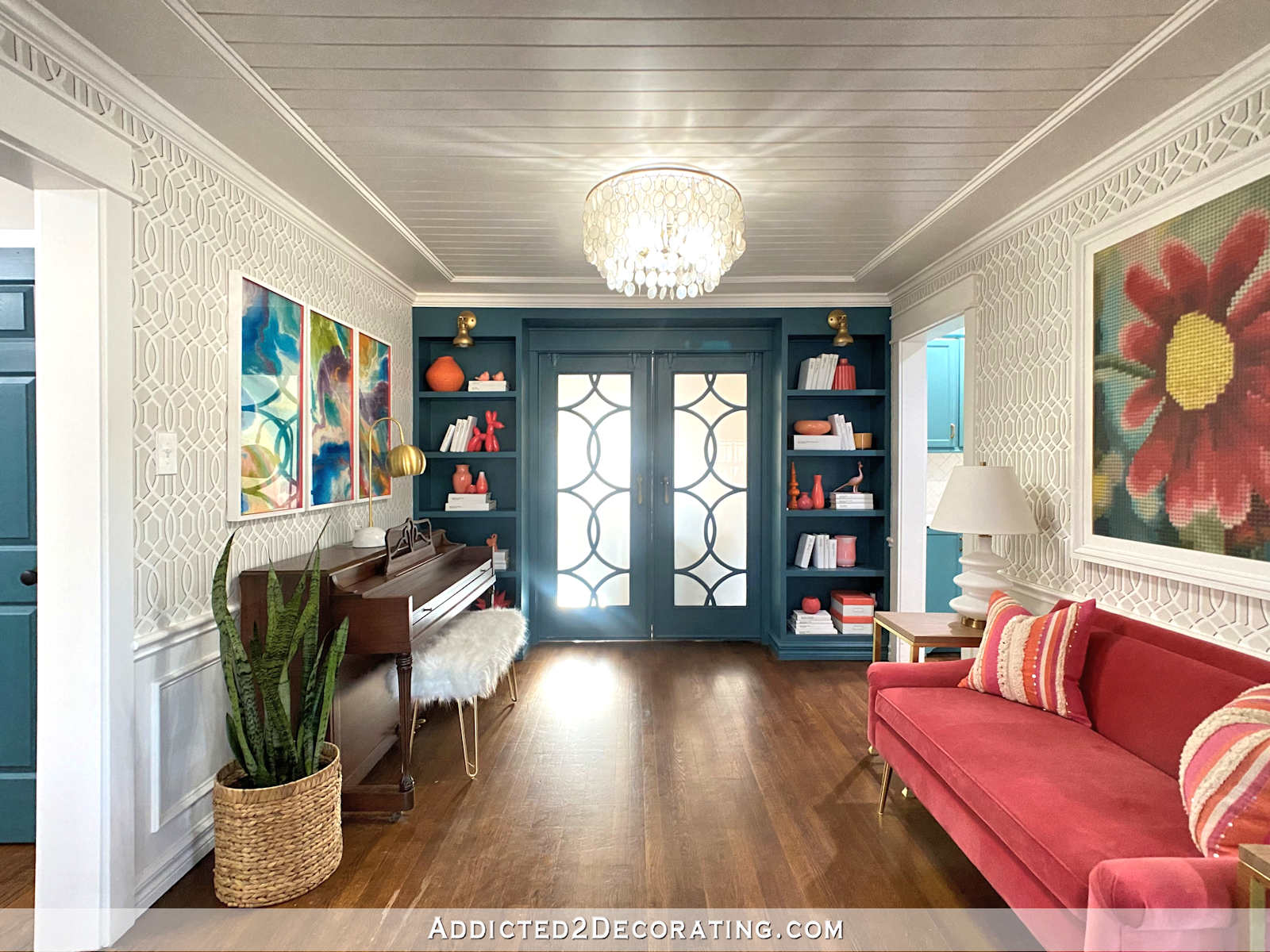 Interestingly, that ceiling has never appeared to have red undertones. So there's something about that color painted onto drywall that's different about it being painted onto wood. I can't explain it. I can only report what I see. And based on my own experiences, I can say that I'd never again try to use Polar Bear on a drywalled ceiling.
On another topic, let me get your opinion on something. Y'all know that I've gone back and forth on what to do on the walls in the toilet area (the area on the right behind the mural wall). The area on the left is the shower, so obviously, the walls are tiled. I had originally planned to tile the walls in the toilet area to match (because of my need for symmetry), but then I decided that I didn't want those walls to be tiled. My main reason is that tile is just so cold. So then plan had been to just paint the walls white (the same Behr Polar Bear, which would be warmer than the stark white primer that's on the walls now, and would come closer to matching the white of the subway tiles
But the idea of having plain white walls just hasn't set well with me. I don't want tile, but I'm just not fully on board with plain white walls. So yesterday, the idea came to my mind that I could do a slatted wood wall. It would basically be my music room ceiling applied to the walls of the toilet area. For that ceiling, I used 1/4-inch plywood, so I could do the same and cut the strips to the same height as the tiles on the shower side. And since I have that in other parts of the house (not only the music room ceiling, but I also have the stained version in the hallway bathroom ceiling), it wouldn't be a diversion from the style that's in the rest of the house. (But please, lets not call it "shiplap". 😀 )
Anyway, what do you think? It would give some interest to the walls so they wouldn't be just plain white drywalled walls, but it wouldn't be cold like tile. I think I like the idea. I think. 😀
Addicted 2 Decorating is where I share my DIY and decorating journey as I remodel and decorate the 1948 fixer upper that my husband, Matt, and I bought in 2013. Matt has M.S. and is unable to do physical work, so I do the majority of the work on the house by myself. You can learn more about me here.
I hope you'll join me on my DIY and decorating journey! If you want to follow my projects and progress, you can subscribe below and have each new post delivered to your email inbox. That way you'll never miss a thing!