This post and photos may contain Amazon or other affiliate links. If you purchase something through any link, I may receive a small commission at no extra charge to you. Any supplies used may be given to me free of charge, however, all projects and opinions are my own.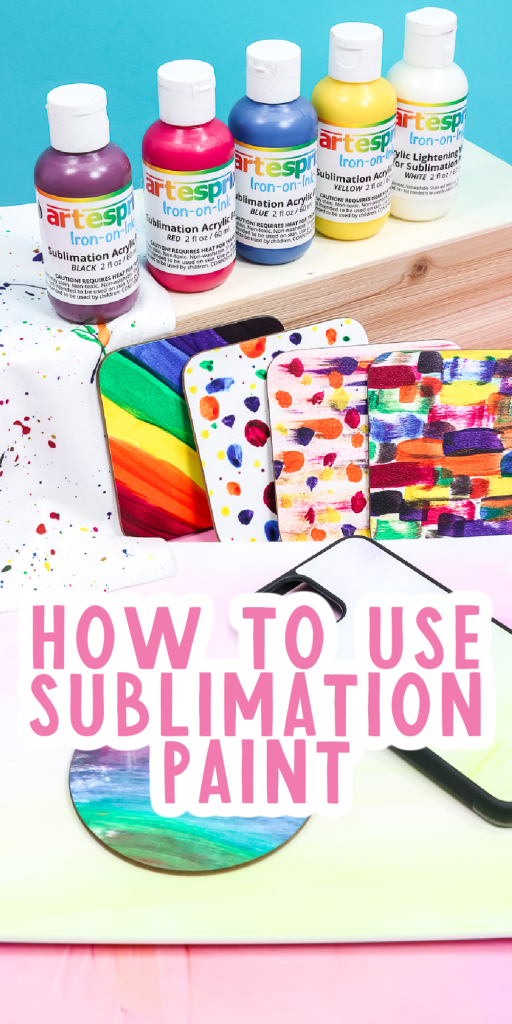 I have another exciting product release for you today with Artesprix sublimation paint. I must say that I am loving this paint. It is the perfect way for ANYONE to give sublimation a try with no printer required. This is also great for artists that may want to sublimate their own work permanently onto surfaces right at home. You can even get the kids involved in sublimation with this product. So, let's take a look at how it works!
Just getting started with sublimation? See our list of things you need to know before you dive in!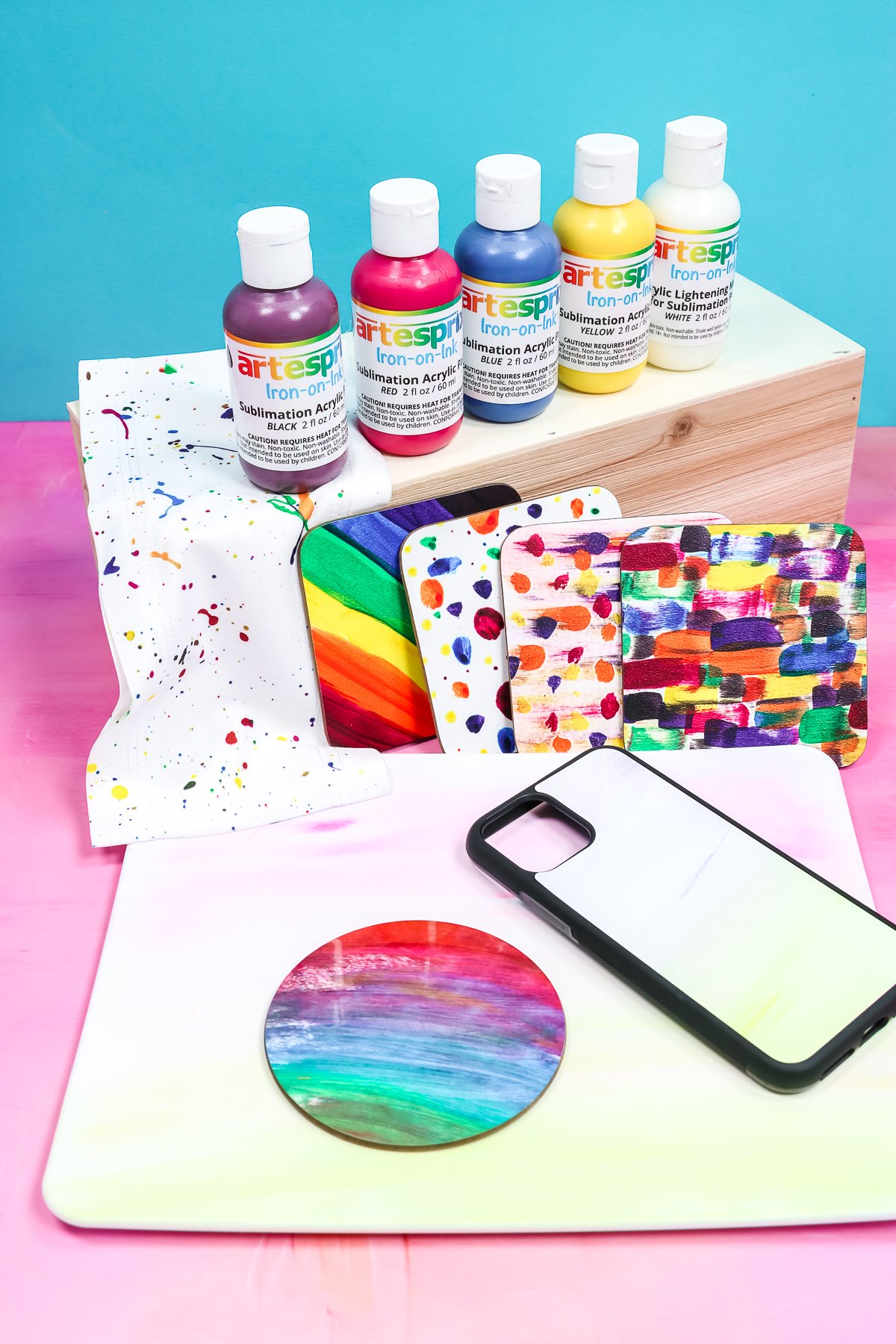 Artesprix Sublimation Paint
Want to watch me use this new paint for sublimation? You can click play on the video below to see the entire process!
Supplies Used
What is Sublimation Paint?
The Artesprix Sublimation Paint is sublimation ink but in paint form. You can use it for any of your sublimation paints. You will want to follow along below to see how to use it the correct way for the best results. It comes in four colors plus a white lightening medium. You cannot sublimate white ink. There is no such thing as white sublimation ink. However, they wanted a way for you to be able to mix different colors with the four primary colors, and the way to do that is with white. The white bottle is just a lightening medium and you cannot sublimate the white by itself.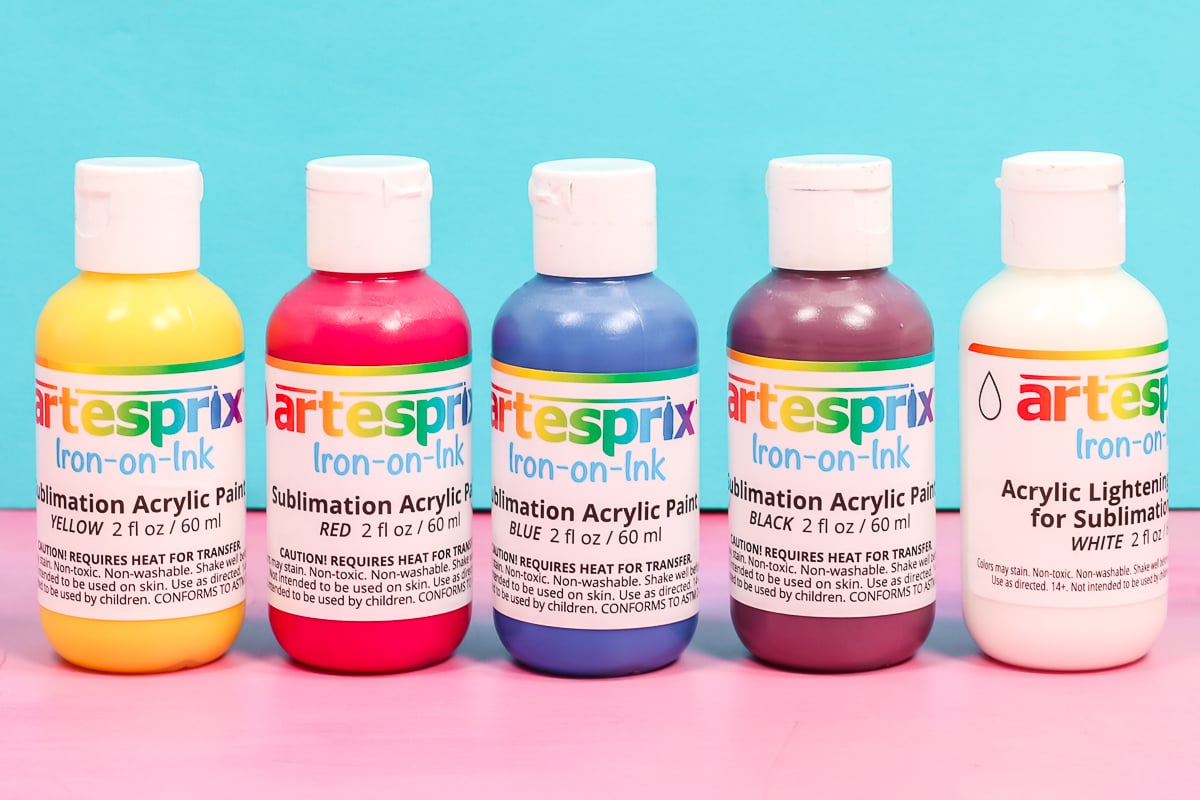 The other four colors are blue, yellow, red that looks pink, and black that looks purple. These colors look different when you paint them, and then after you press them and add that heat, they really pop. With just these colors, you can mix a ton of different colors. You can use this mixing chart as a guide or do some experimentation on your own.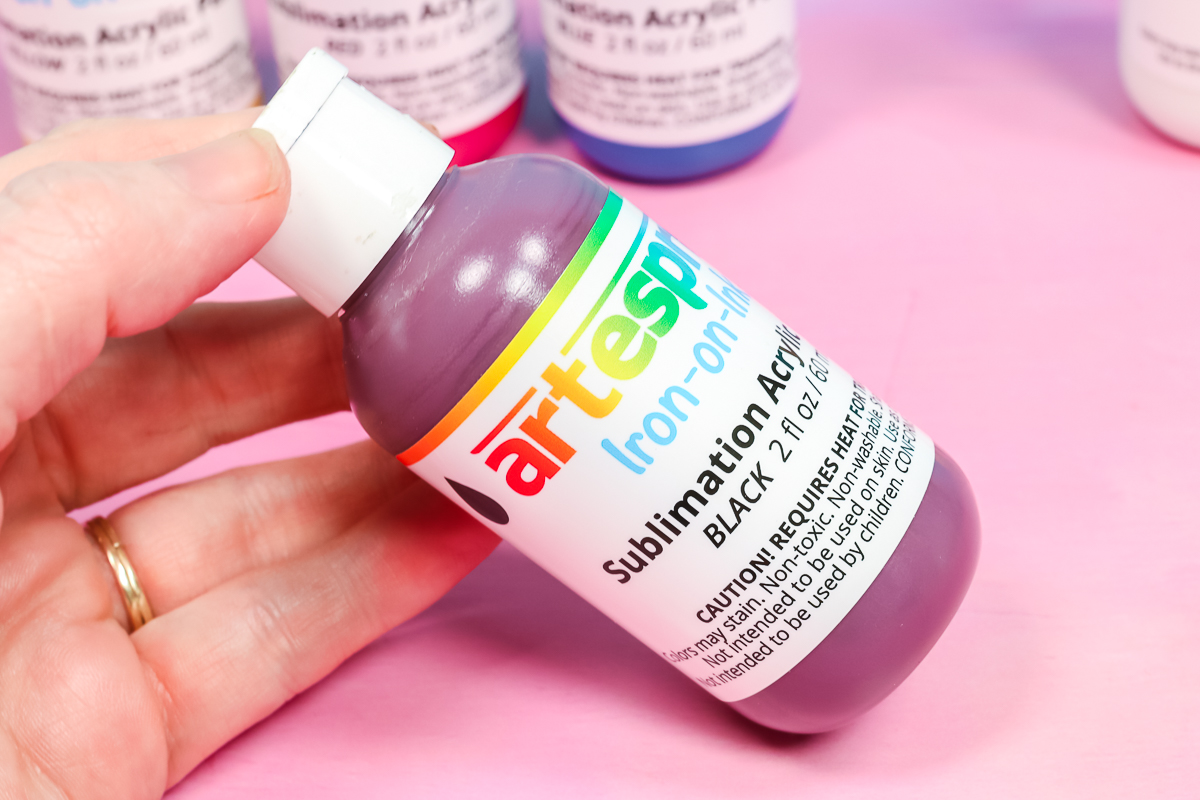 Choosing the Right Paper
You will need to paint on paper and transfer your design as that is the way these paints are formulated. What kind of paper do you need? I do recommend something that's thicker than copy paper. With the Artesprix sublimation markers, you can use copy paper for your projects. With this, I do recommend something a little bit thicker just because it's paint. It is water-based and will soak your paper. You don't want your paint deteriorating or ripping. I used some white card stock on some and watercolor paper when I mixed the paints with water. I do think you could use sublimation paper but it's really not necessary. If you have some other kind of thicker paper around, you could definitely use that with the Artesprix sublimation paint.
Blanks to Use
This paint works the same as any sublimation ink. Once it's on that paper and dry, it is a sublimation print. You can now put it onto sublimation blanks and you do need a polyester coating to do that. If you're talking about fabric, it needs to be at least 65% polyester. If you're talking about hard blanks, you will want those to be listed as sublimation blanks because those have a poly-coating that will react with the sublimation paint in this case, and make the print permanent once it's pressed. 
You can see some of my favorite sources for blanks here!
How to Use Paint for Sublimation
Now let's dive into using the paints themselves for some sublimation projects.
Painting on Paper
I started by putting each of the colors onto a paint palette and then just played around. You can just mix and experiment to see what you like best!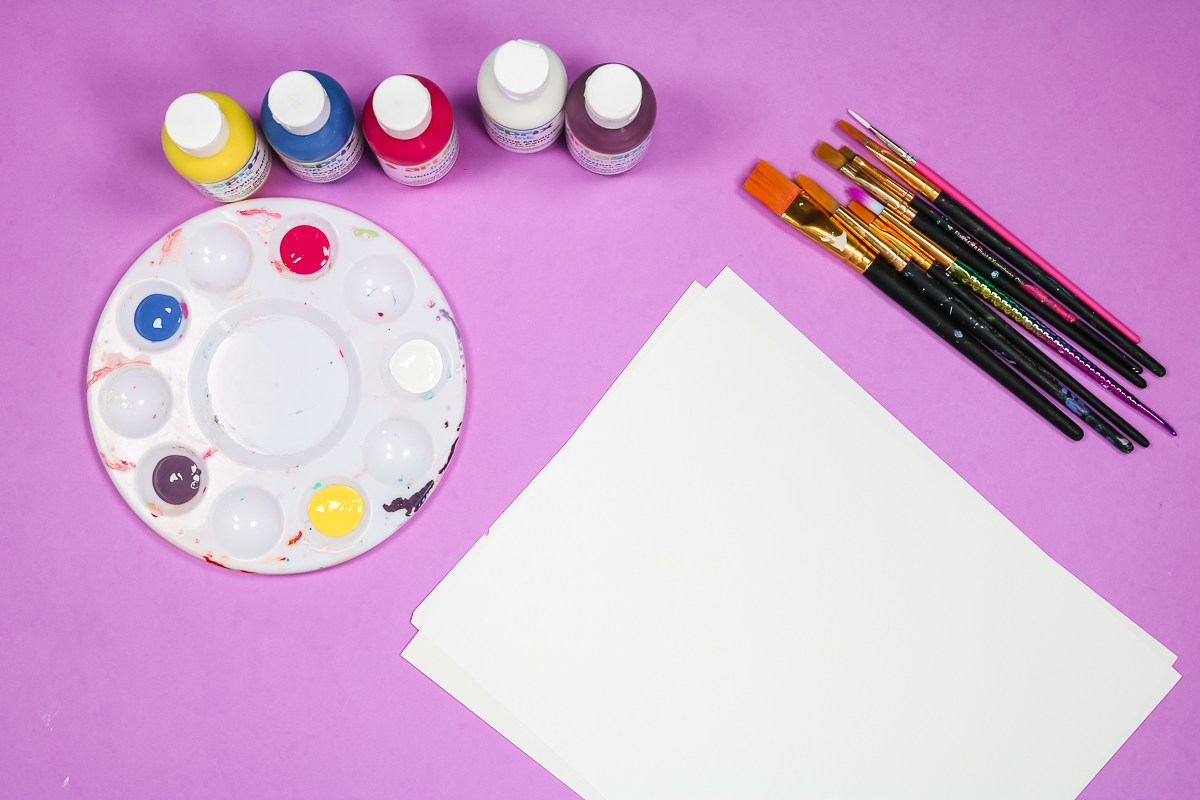 I did a few different papers, some of which I planned on putting on a coaster. I traced the coasters first and then started adding some lines, dashes, dots, and just randomly putting different effects on the paper. These are experiments so I can see what the final results are after I sublimated. I do feel like playing around with this paint will help you know exactly what it'll do. Plan to play around with it a little bit even on polyester fabric, and it would give you an idea of how the paints work before you actually get started.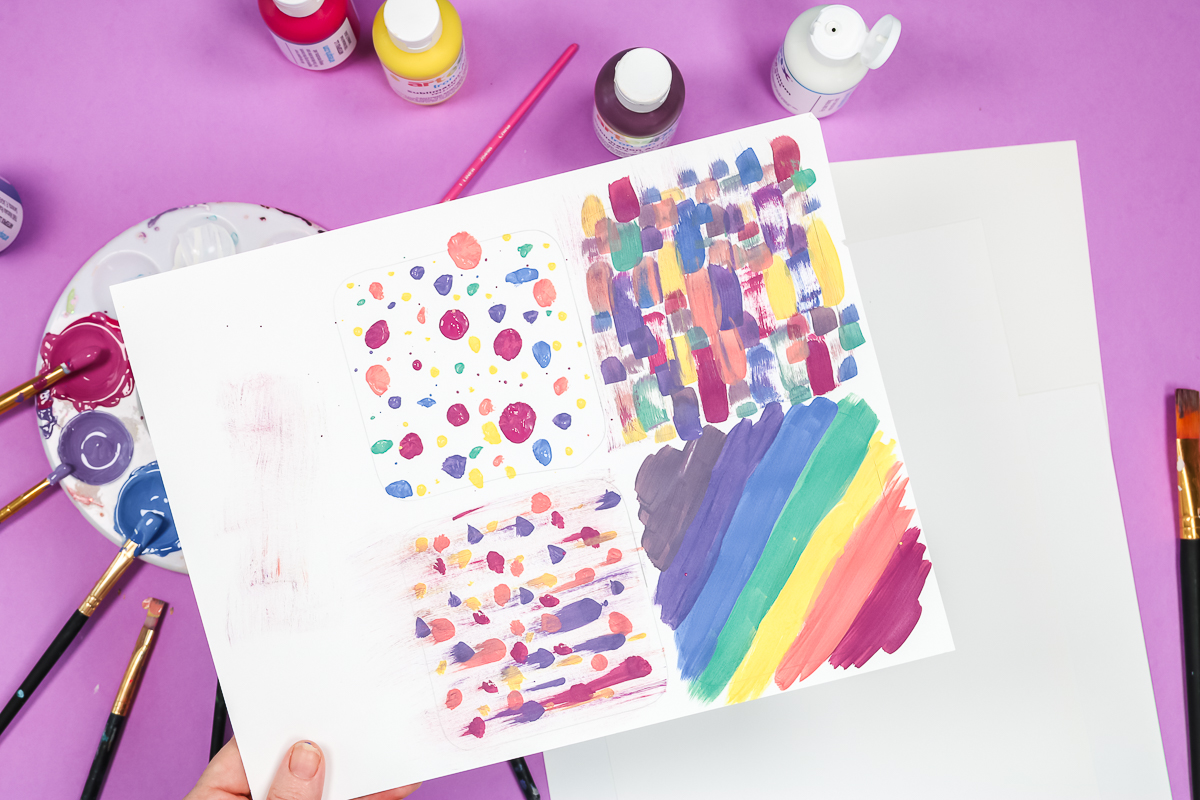 Allowing to Dry
You do need to let this paint dry before you sublimate it. I let it dry overnight because that was convenient for me. I do think you could use a blow dryer to speed up the process. In one of the prints I made, I splattered the paint all over the paper. The paint was thicker in that case, which was intentional. I wanted it to be thicker to see if that would sublimate, and how that would work. That print probably took a little bit longer to dry because I had huge globs of paint. The thicker the paint that you put on the paper, the longer it will take to dry before you can sublimate it.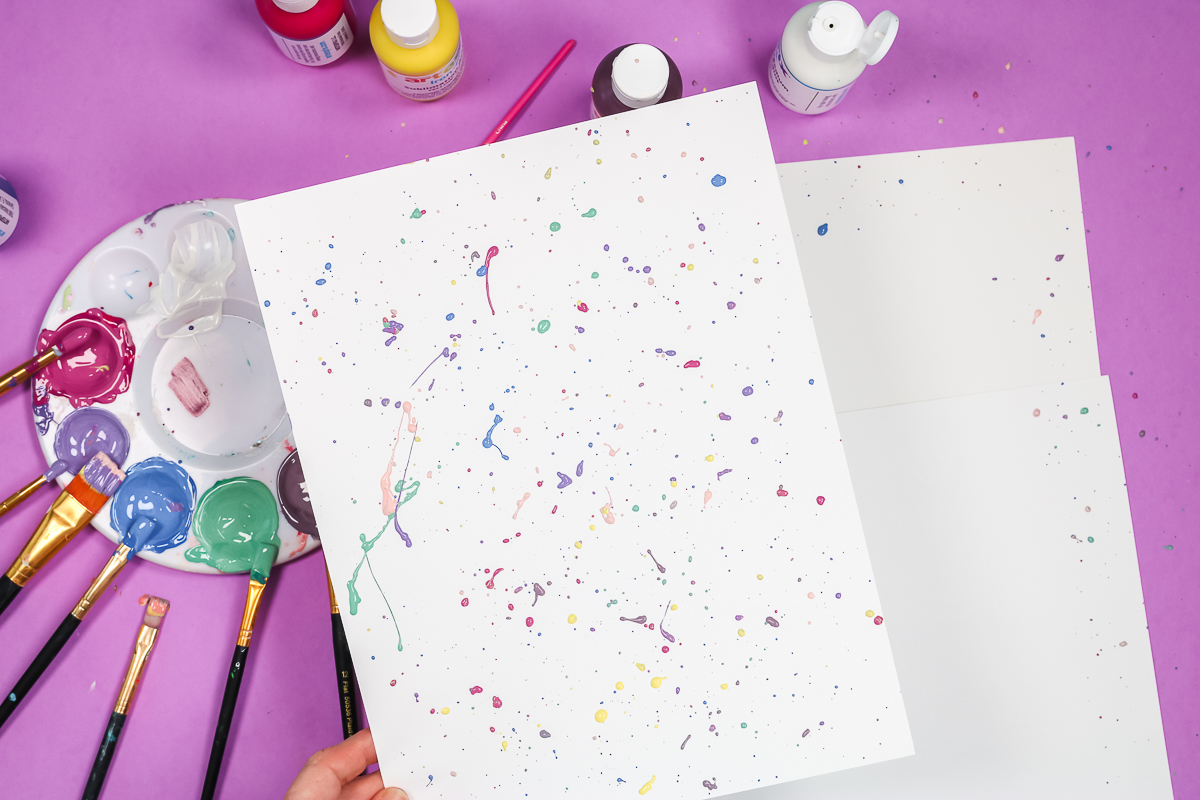 Another way to speed up the drying process is to hover your heat press 2-inches or so over the surface of your print. In a few minutes, your print should be dry enough to add to your sublimation blank.
Using as Watercolors
I couldn't resist. I had to add some water to this paint and give it a watercolor effect. These are water-based paints, so you can water them down and add them to watercolor paper. This makes a really cool watercolor effect on your paper. I love watercolor prints and watercolor art. These paints are perfect for that, given that they're water-based.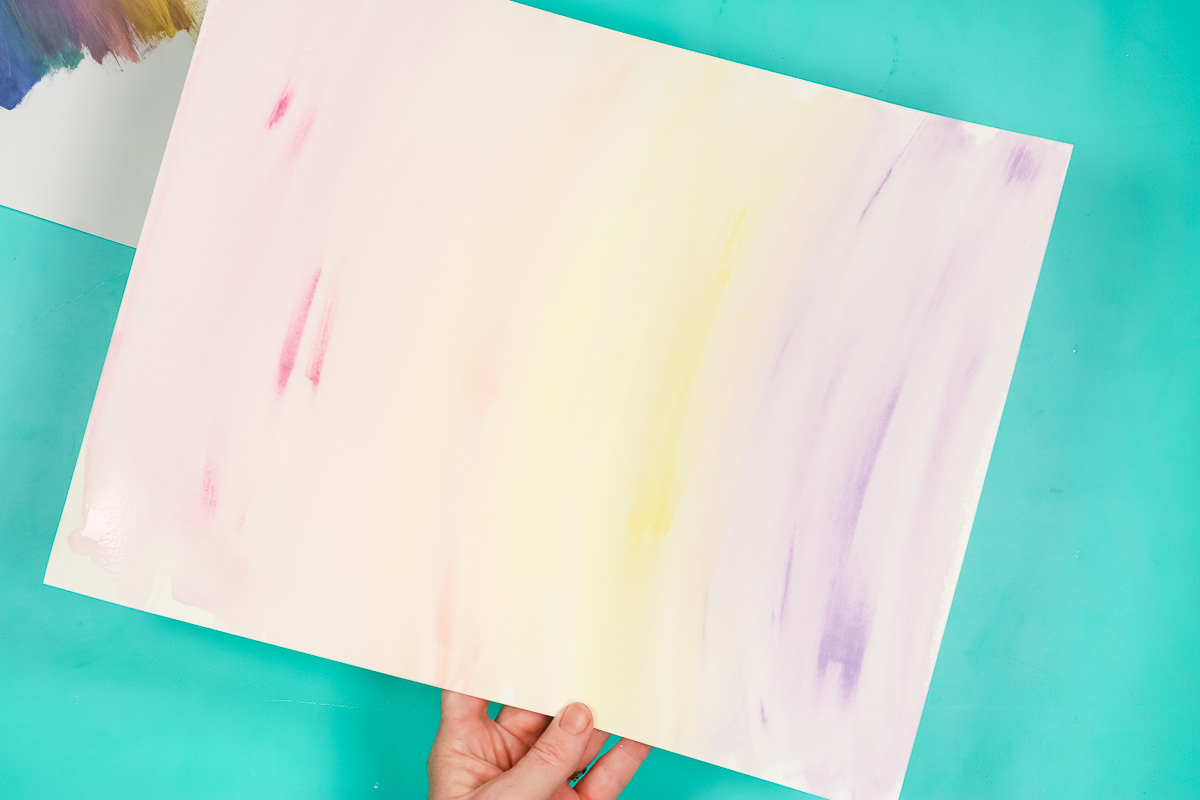 Clean Up
The cleanup on this is super easy. I just cleaned up everything with some water, rinsed it in the sink, and I was done with the paintbrushes as well as the palette. 
Adding to Sublimation Blanks
Now that we have some sublimation prints made with the Artesprix Sublimation Paints, it is time to add those designs to some blanks!
Time and Temperature
This is just like any other sublimation print. You follow the time and temperature for your blank. It doesn't have anything to do with the type of sublimation you're putting on it. You don't have to change the time, you don't have to change the temperature. As always, look on your blank and find your time and temperature, then it's time to add your print. You can see more about finding heat press settings here.
Prepping Your Sublimation Blanks
The prep for most sublimation blanks is the same so let's take these coasters as one example. Clean them well with a lint roller before beginning.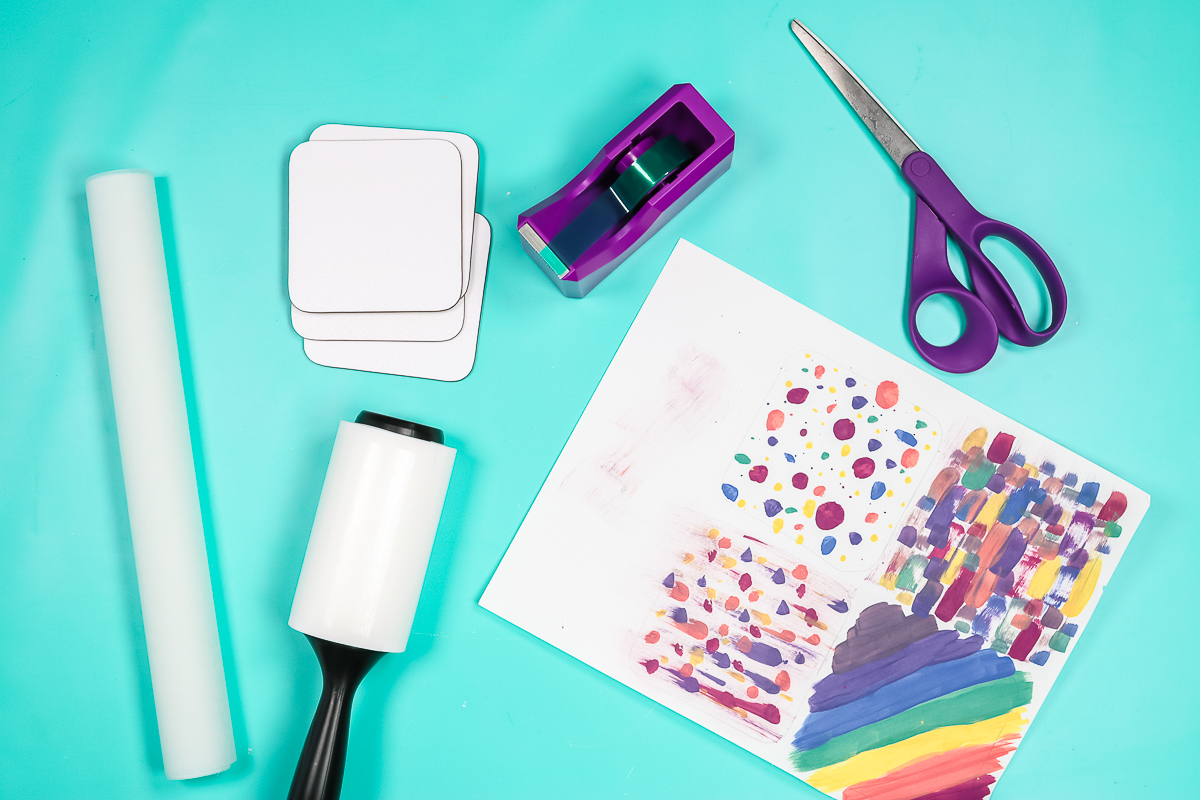 Add the print with the ink side down onto the sublimation surface. You can trim these prints to size with scissors. Then use heat tape to hold them in place during the pressing process.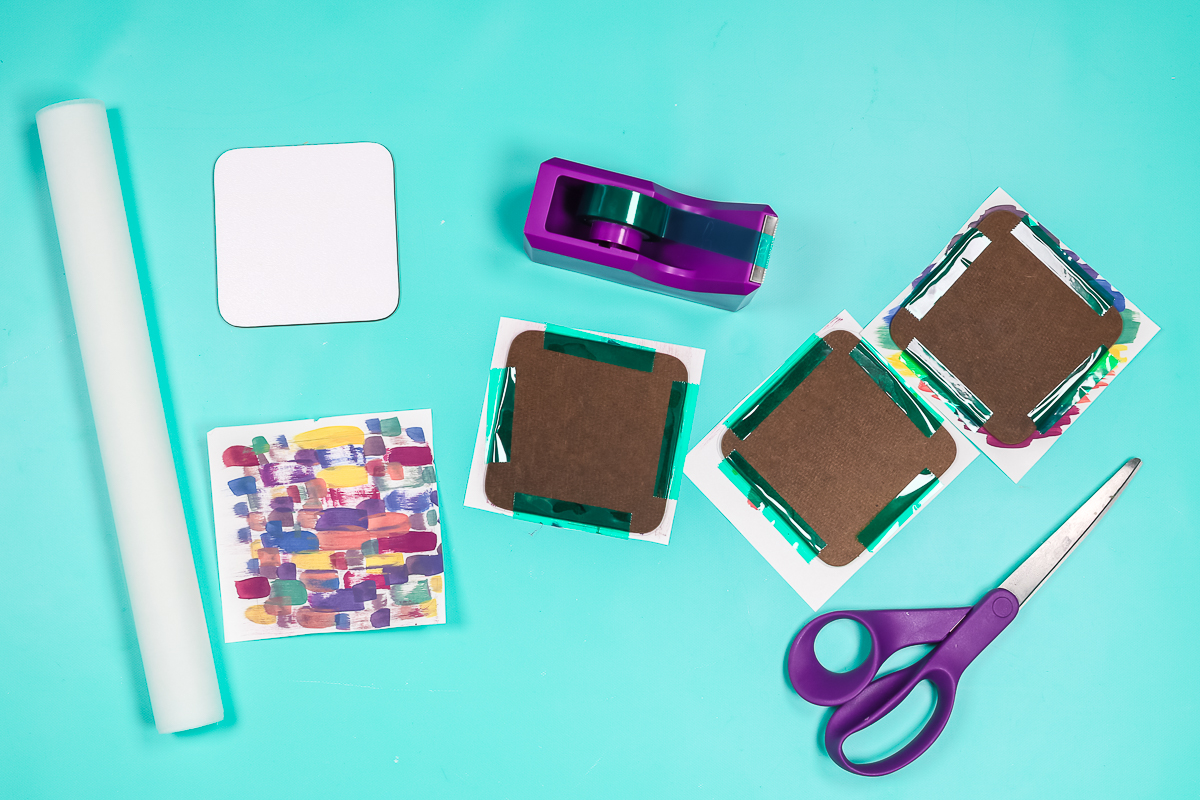 It is important to add protective paper to both sides before adding to the press. You don't know how much of this ink is going to blow out and how much might be on your paper, especially if you're doing splatter painting. Be sure you cover the entire paper on both sides with protective paper.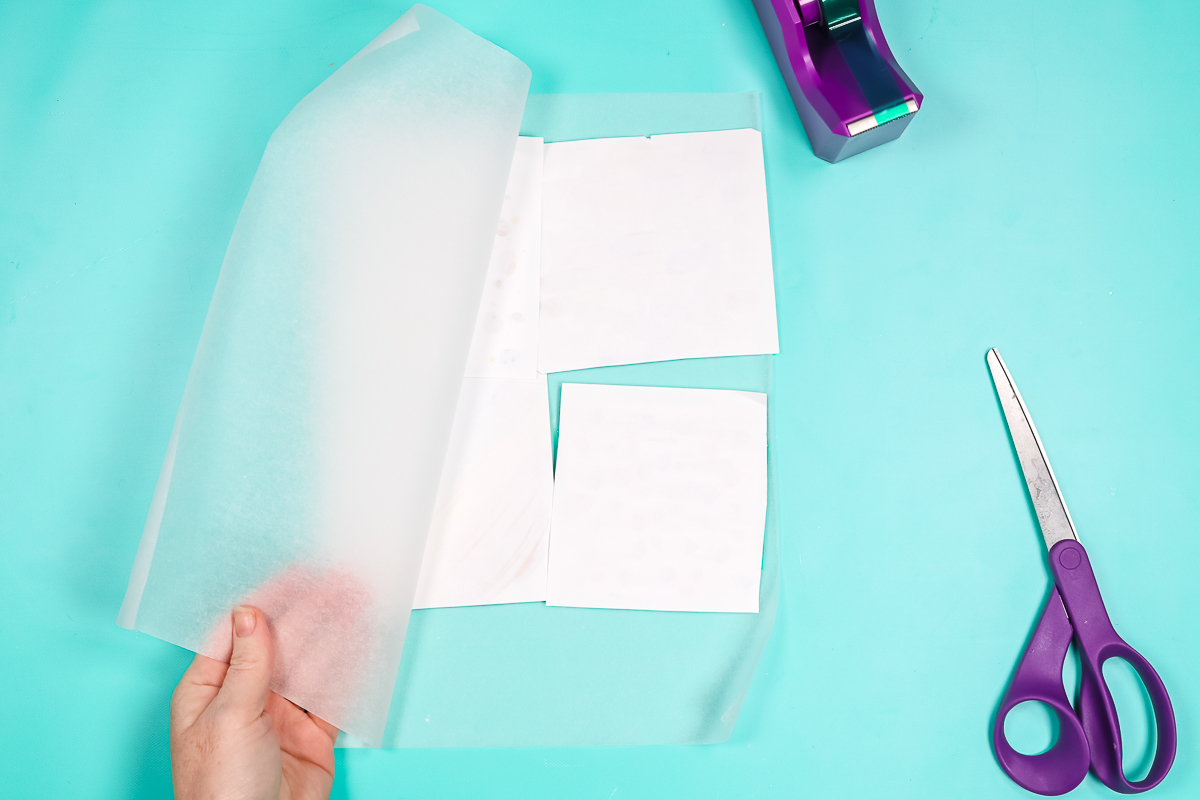 Pressing the Sublimation Blanks
Head to your heat press and press at the time and temperature for the blank you are using. Your pressure should also be set to what the supplier recommends. Be sure the sublimation print is up in the press unless otherwise indicated in the instructions from where you purchased the blank. Remove the entire thing from the heat press when it is done with heat-resistant gloves and put on a heat-resistant mat to cool. I did use a variety of surfaces for sublimation to test the paints on hardboard, polyester fabric, plastic, and metal.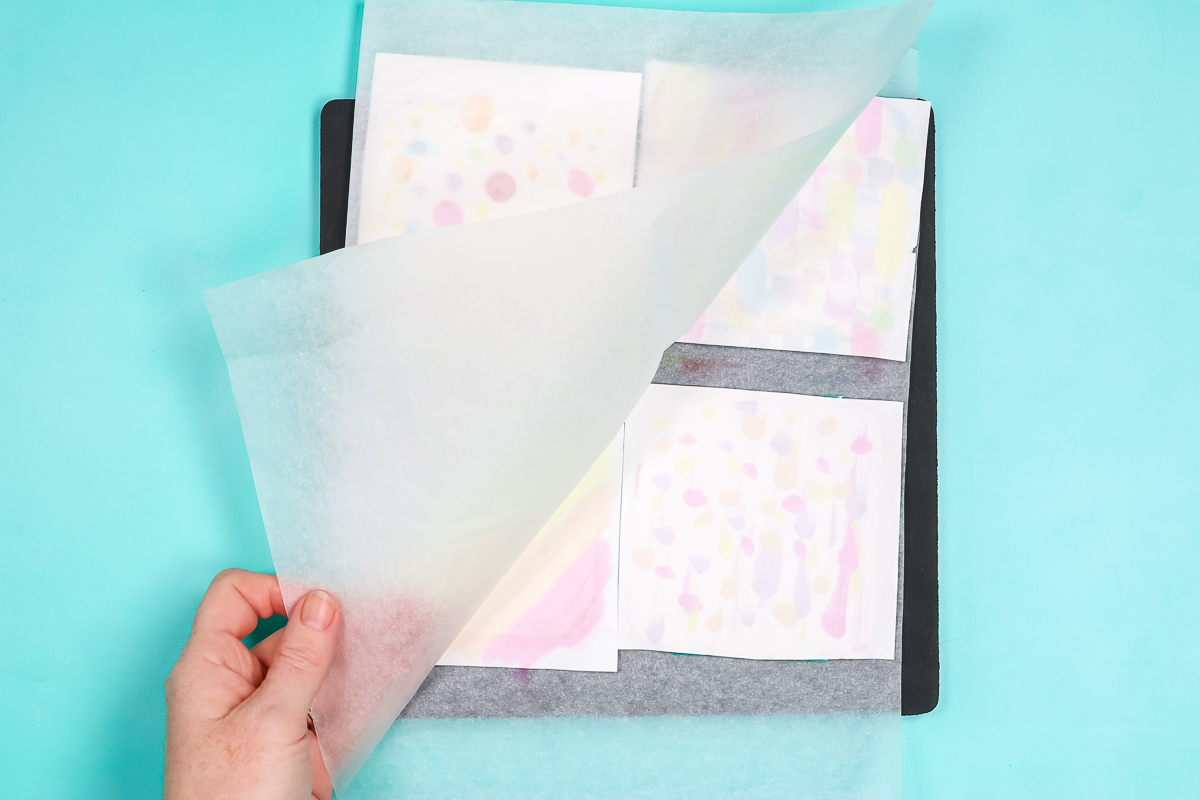 Finishing the Sublimation Blanks
Remove the protective paper, as well as the sublimation print and any tape. Wear your gloves if the blanks are still how. These are permanent, as soon as you remove that paper. There's nothing else you need to do, no sealer, no anything. That is the best part about sublimation crafting! You can see how great these paints really pop once you press them. With the square coasters, I did a variety of effects on those. I wanted to play around with different brush strokes and see how they looked. These paints had very little white mixed in to see just how bright and dark I could get my colors. I am thrilled with the way these turned out.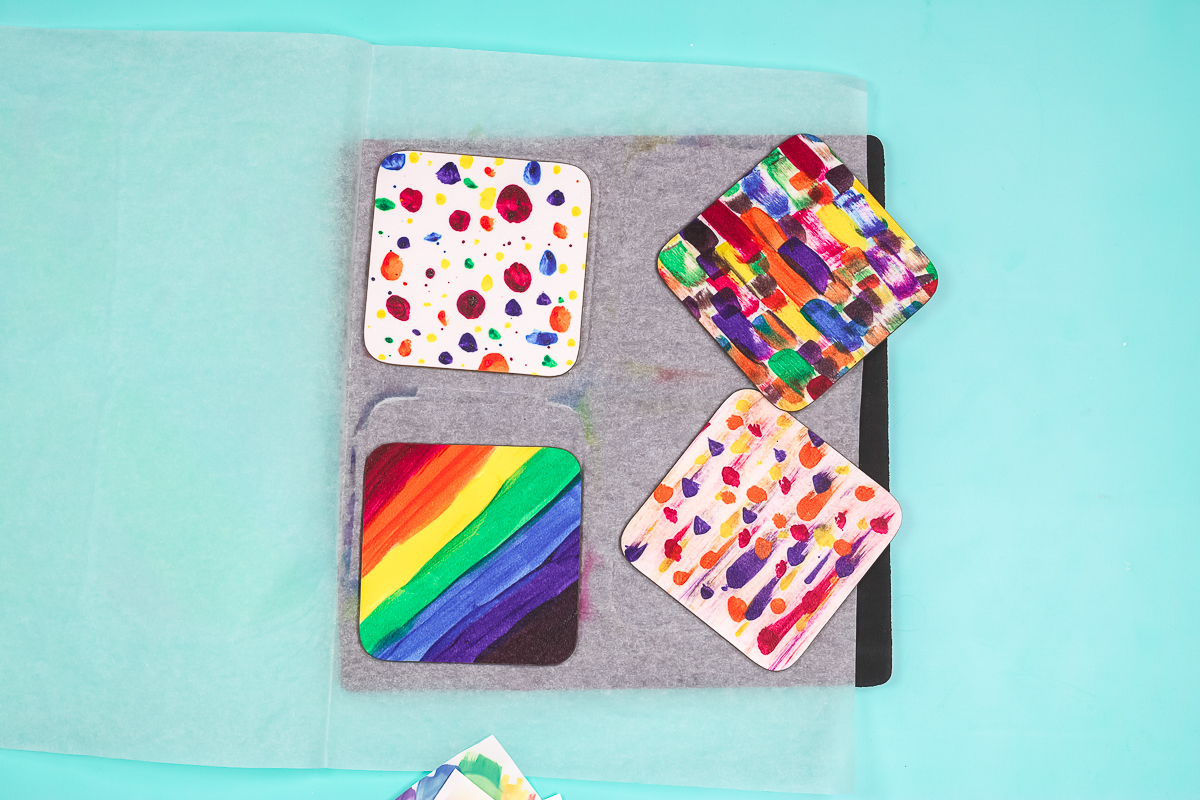 I love how the headband turned out with that splatter effect. It was messy but well worth it in the end! All I did was splatter the paint literally all over our piece of paper, and then press it to this 100% polyester headband. It definitely looks amazing.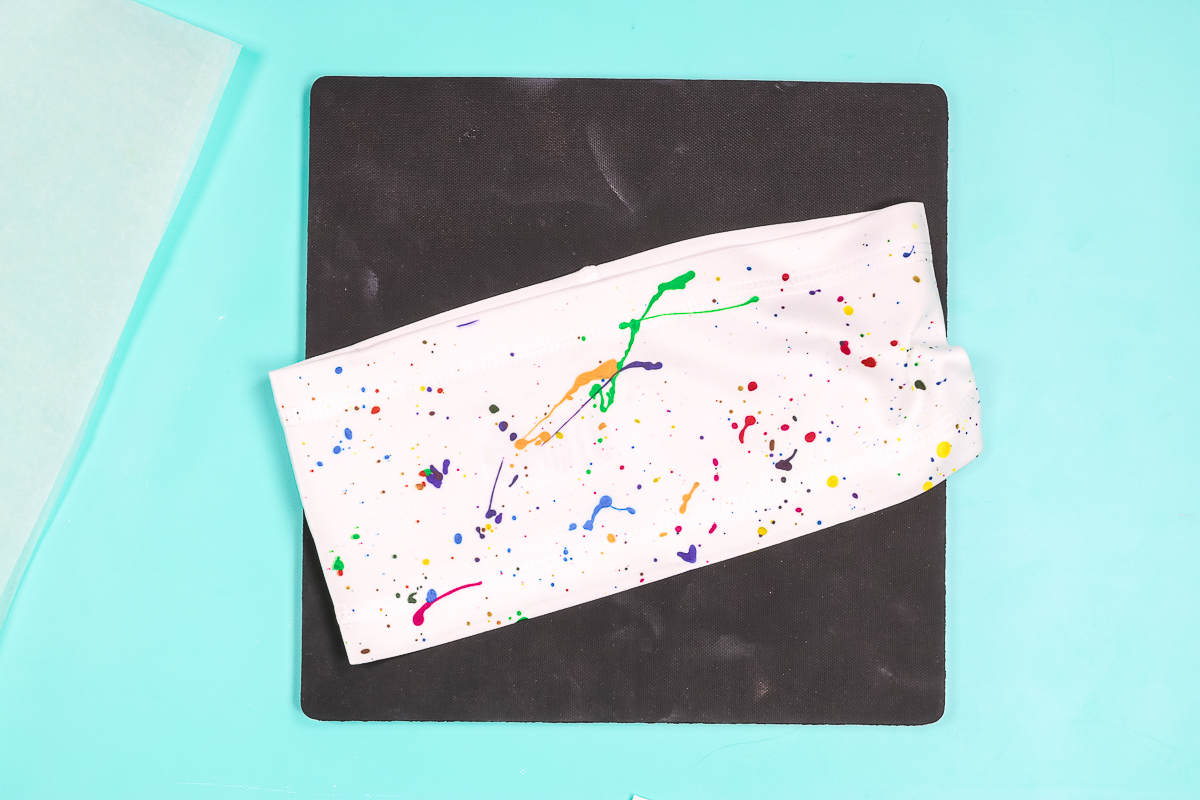 For the phone case, the sublimation goes on a metal insert. Then after pressing, you remove the adhesive liner from the case and add the metal piece inside.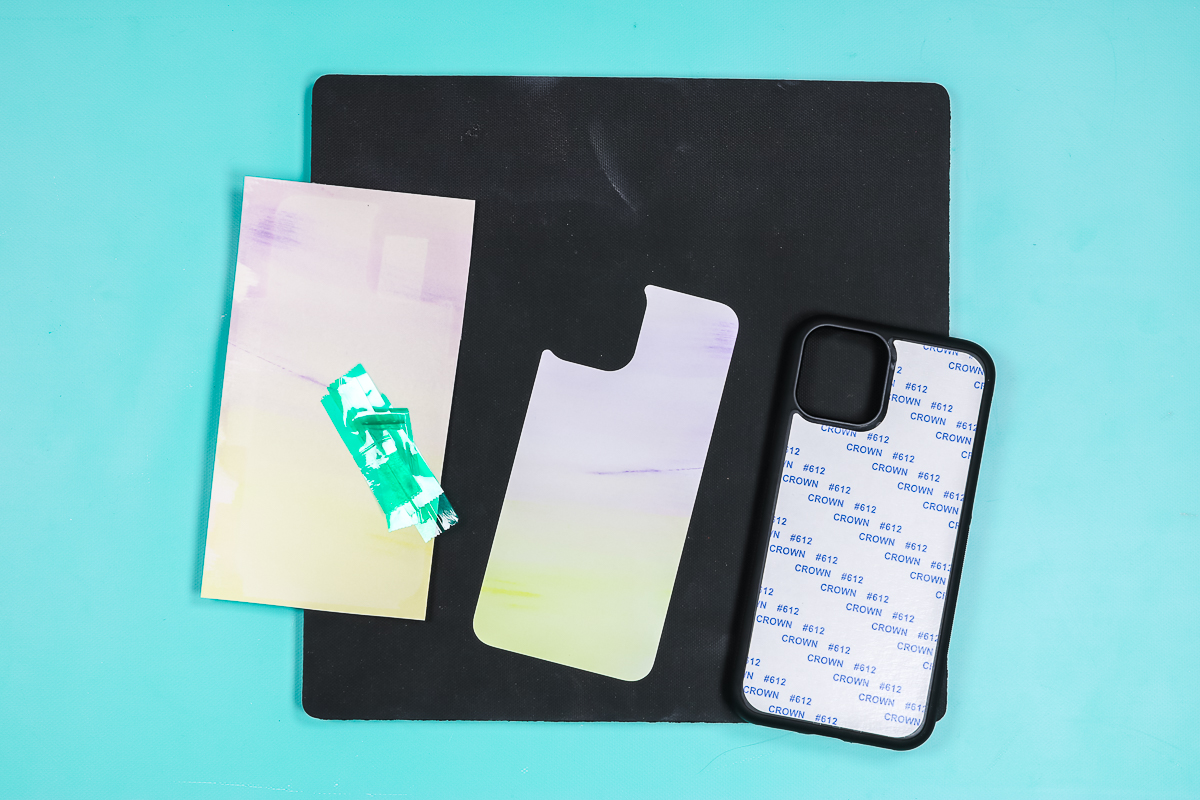 For the phone case, you start to see that watercolor effect which I really, really love. I do think you could do a lot with watercolor and these paints.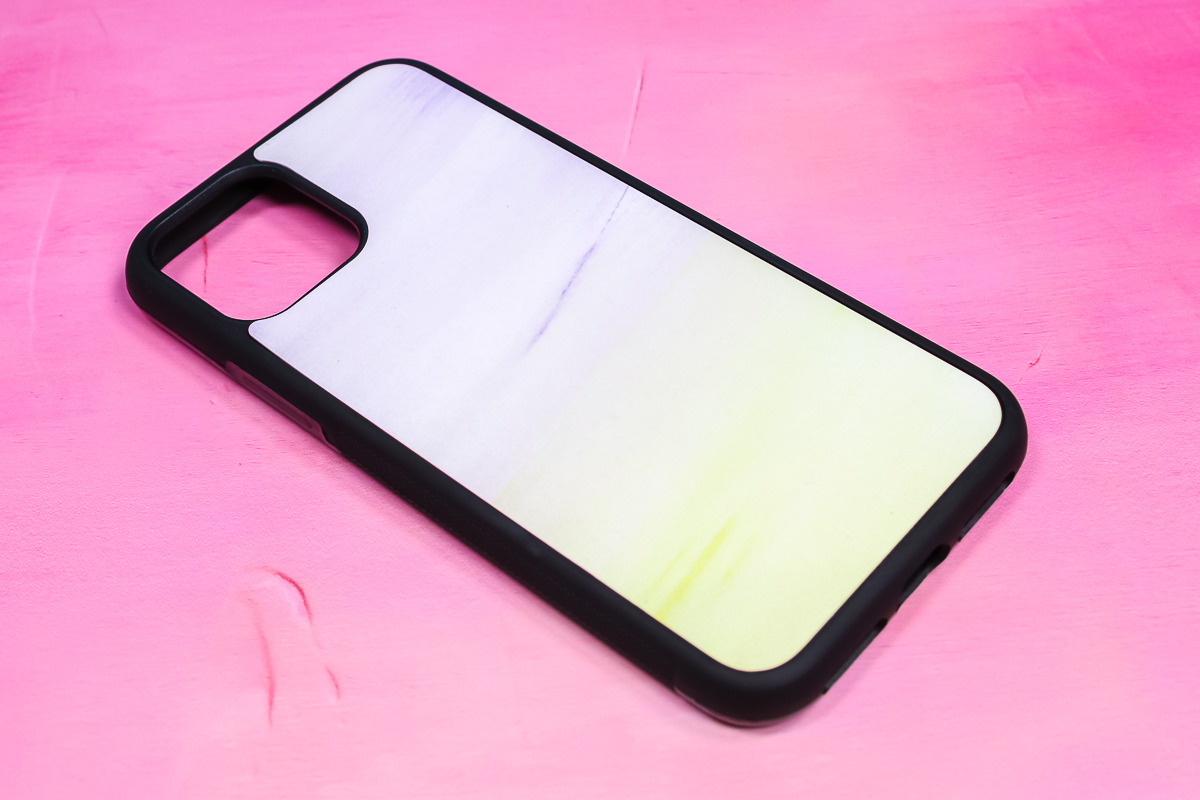 I also used a piece of watercolor print on the cutting board. It was a different piece of the same paper. Painting this over a large area, and then using it for several smaller crafts is a great way to get the most use out of your paints.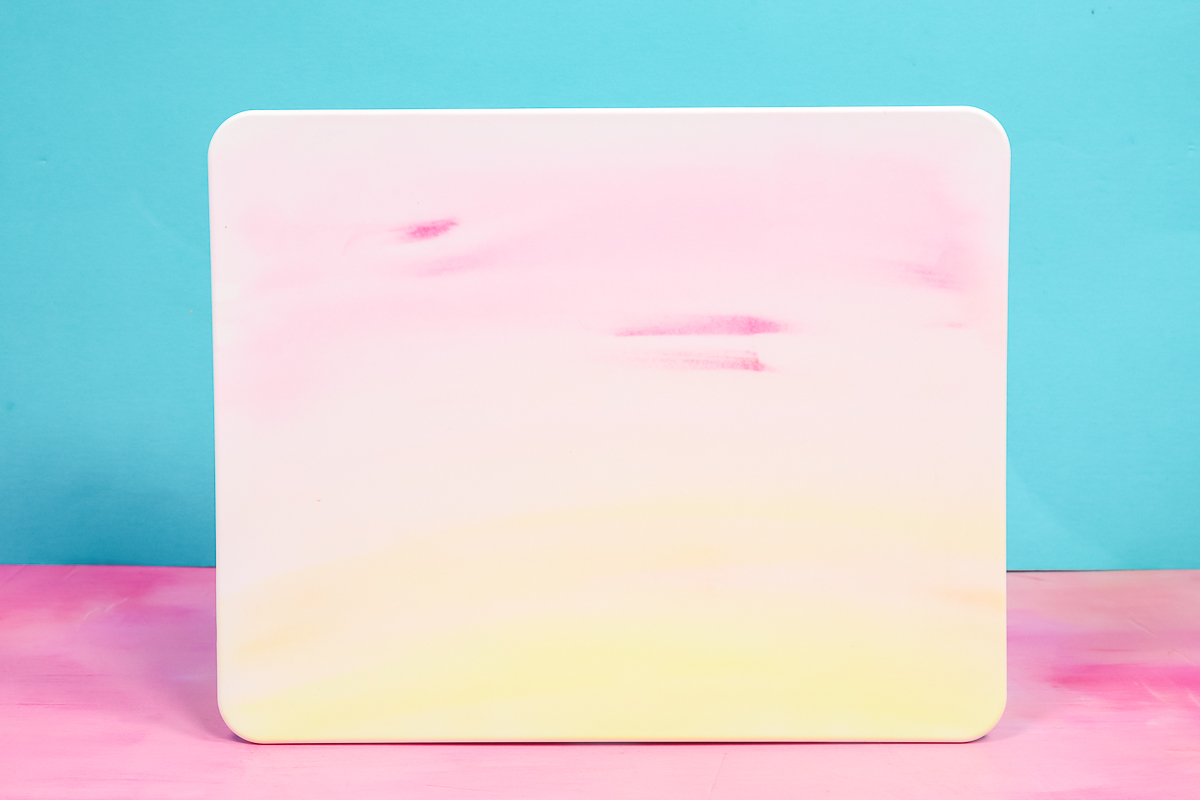 Finally, we have this round coaster. With this one, I wanted to show you the change in color. The paper shown is similar to the one I painted and pressed onto the round coaster. You can see just how much those colors change and just how much they pop after being heated. You will want to play around with these paints and see how much the color changes before you do your final project because you might get a surprise once you peel back that paper.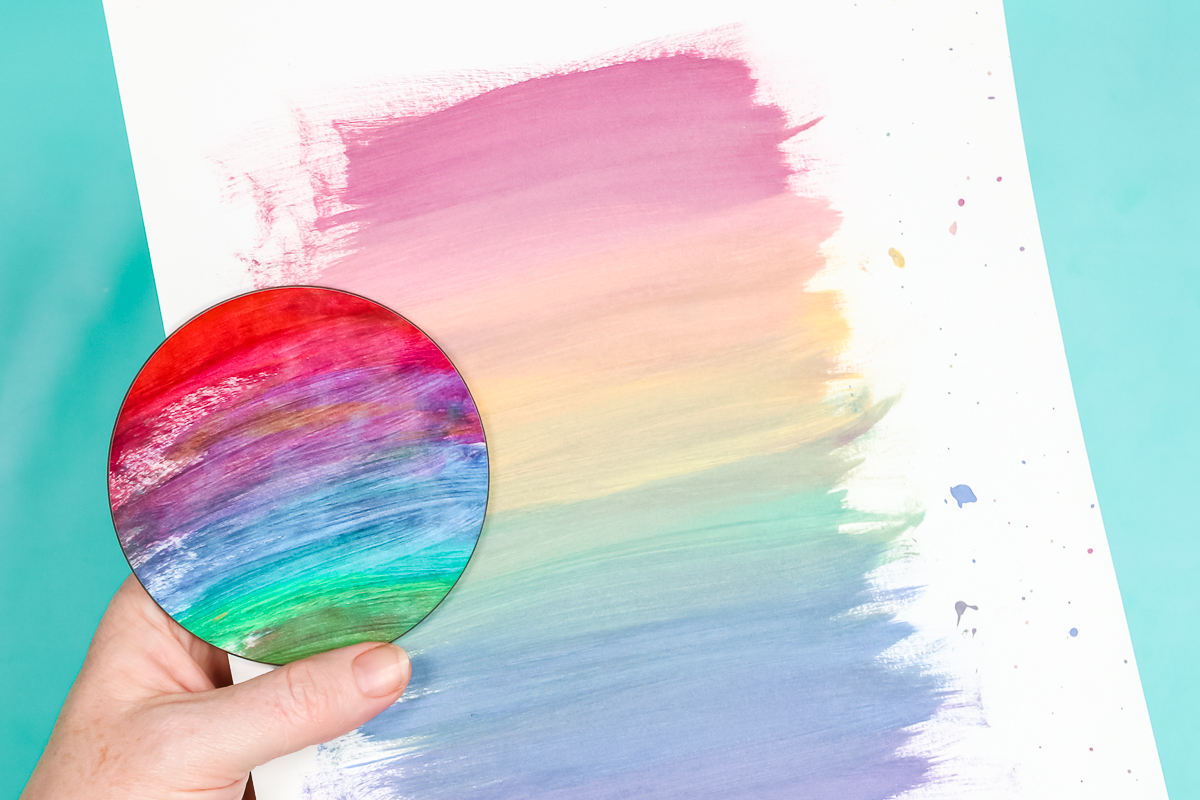 Artesprix Sublimation Paint Review
I am thrilled with the projects I made with these paints and I can't wait to make more. There's so much you can do with these. I wasn't expecting to love the paints this much. But I actually love the way everything turned out and sublimation painting is so much fun. You can put it on something and it's permanent right when you peel that paper off, which is kind of amazing, right? Normally, you would paint something and then add layers of epoxy or decoupage. No more of that! Paint it, sublimate it on, get the look of paint, but the permanency of sublimation, all with Artesprix sublimation paint!
I will also say these paints go a really long way. When I started, I added quite a bit to my paint palette and then I found that I had tons of paint leftover. I just kept going and made more prints so I would not waste any of the paint. You can always save those papers for later and press them at any point in time to make a project.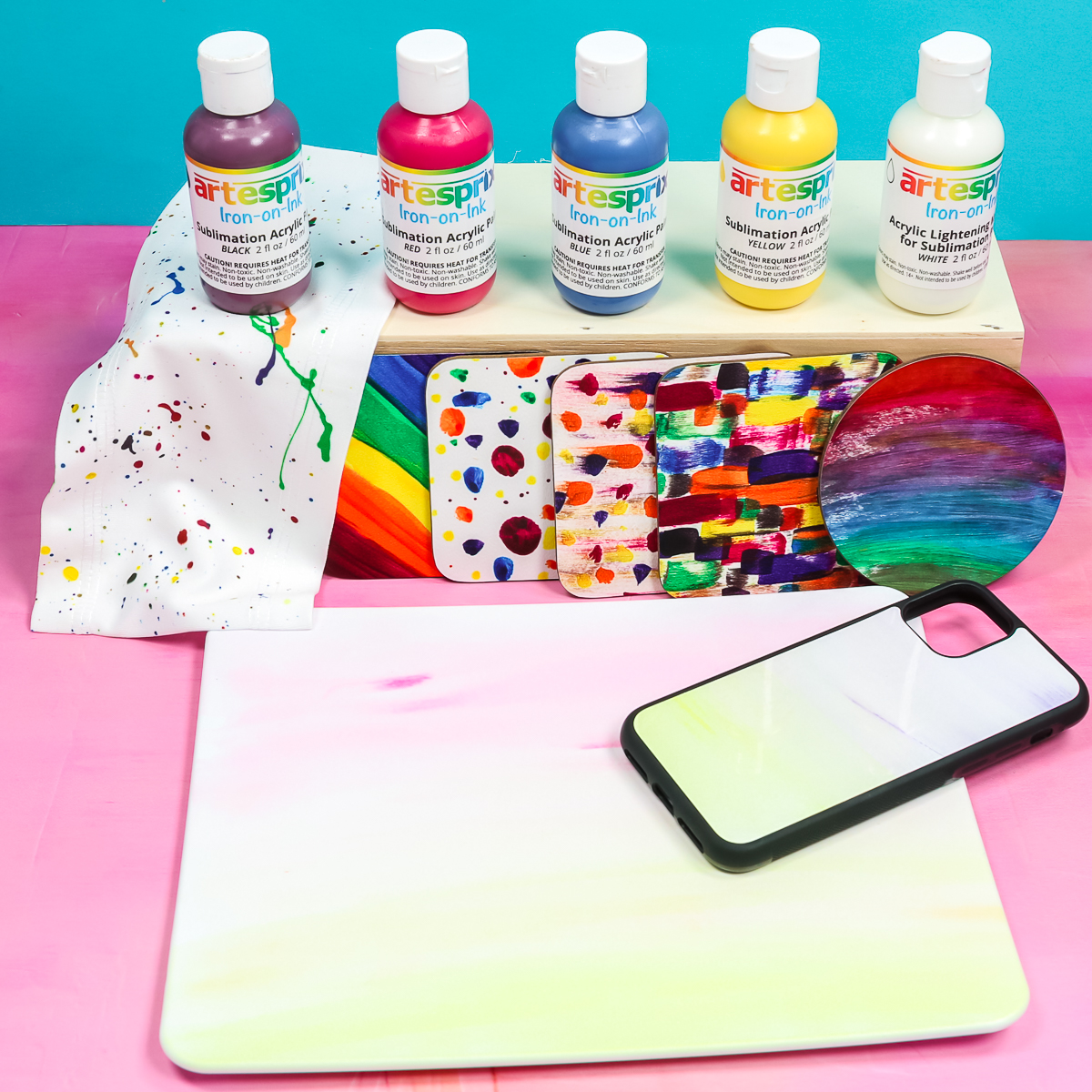 So, what do you think? Will you be giving Artesprix sublimation paint a try for yourself? I really think you will love what you can create!