This post and photos may contain Amazon or other affiliate links. If you purchase something through any link, I may receive a small commission at no extra charge to you. Any supplies used may be given to me free of charge, however, all projects and opinions are my own.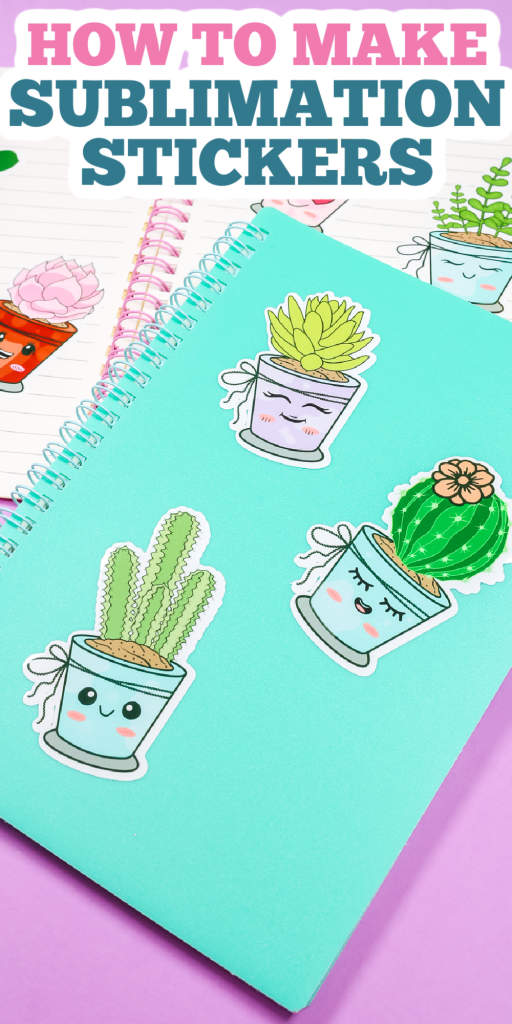 Are you wanting to learn how to make your own waterproof sublimation stickers? Let's go through the process today to make stickers with your sublimation printer. Using a Cricut machine with sublimation sticker sheets is actually an easy process. Use this alternative if you only have a sublimation printer or if you are looking for an alternate way to make waterproof stickers.
Need more information about designing stickers with a Cricut machine? Get our complete guide to stickers here!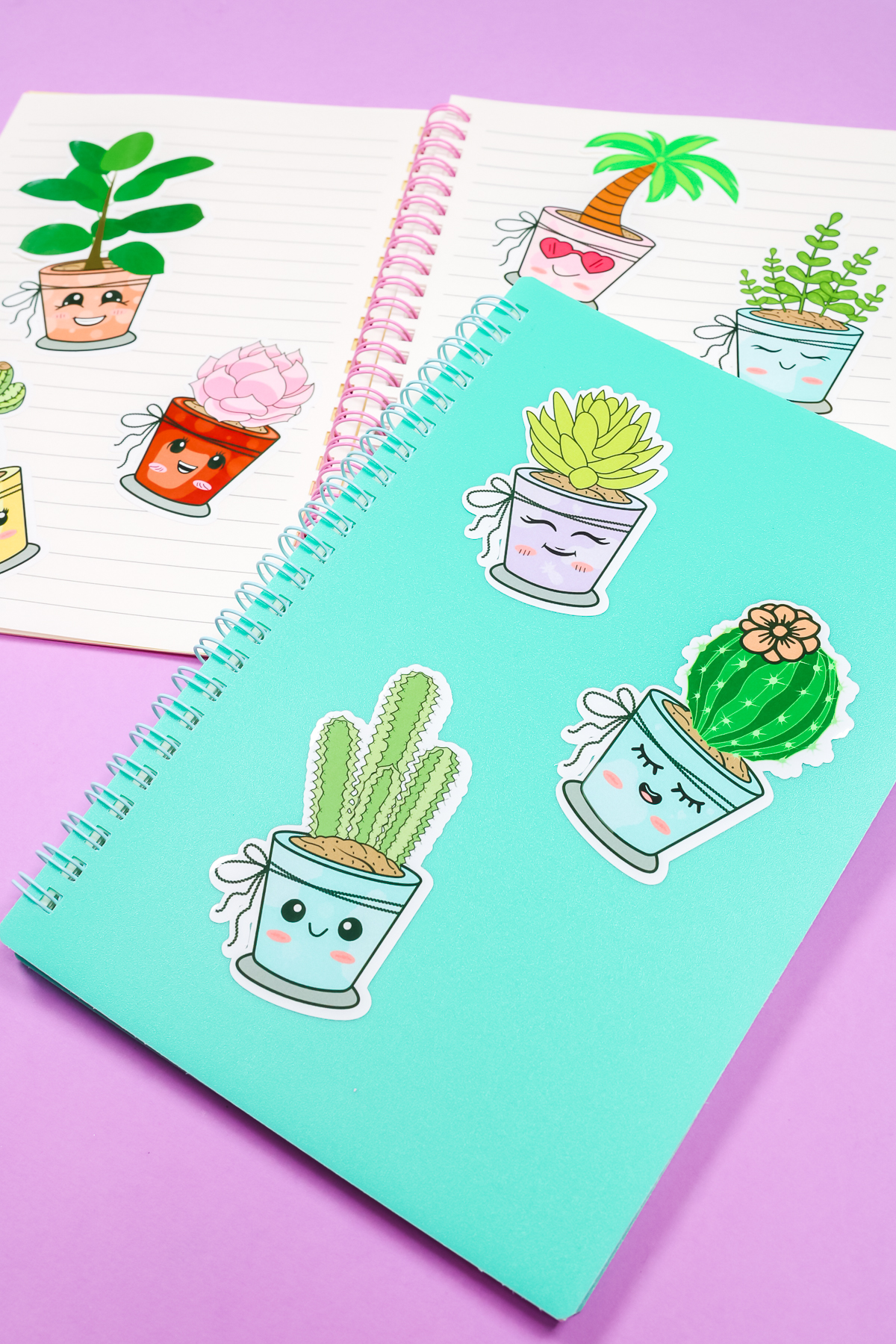 Sublimation Stickers
Click play on the video below to see how to make stickers with your sublimation printer. You can watch me add them to Cricut Design Space, print them, sublimate them, and cut them with a Cricut machine.
Supplies needed: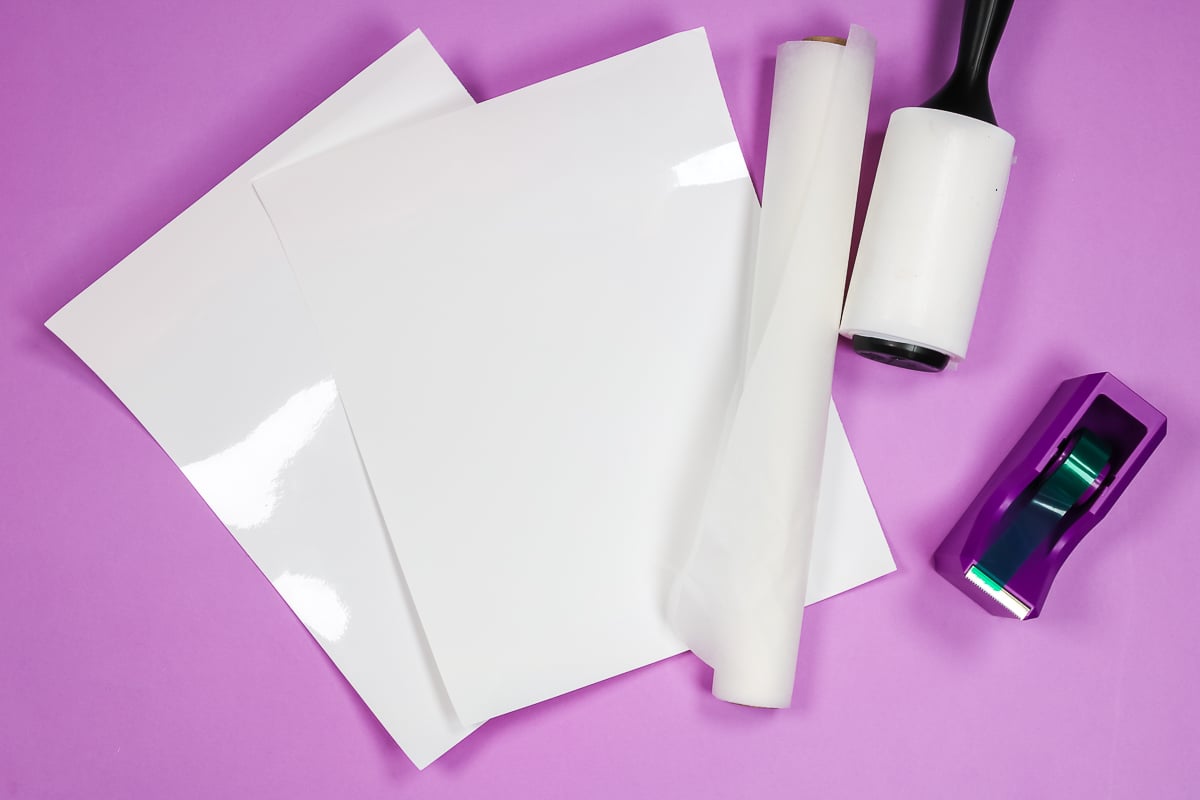 Adding Stickers to Cricut Design Space
First, you will need to make a sublimation print. I am using my Cricut machine to print and then cut my sticker shapes.
Upload the images to Cricut Design Space. I am using some cute cactus designs. They already have a white offset of cutting around the outside edge. If your images do not, you can see more about offsets here. If your images are NOT print then cut, be sure to flatten them before continuing.
Add a guide to your canvas that is 6.75 x 9.25 inches which is the maximum size for Cricut print then cut. You can see more about using guides here.
Arrange your sticker images onto the guide to get the best use out of your sticker sheet. You can make copies of the stickers and even resize them if you need to.
Pick all of your images and click "attach". You can include the guide in this as it will not print or show up on your final project.
Click "make it" and you should see your sticker sheet on your mat with a black box around it. The black box is a registration box and helps your Cricut to locate your cuts.
Click "continue" and you will get the option to print your sheet.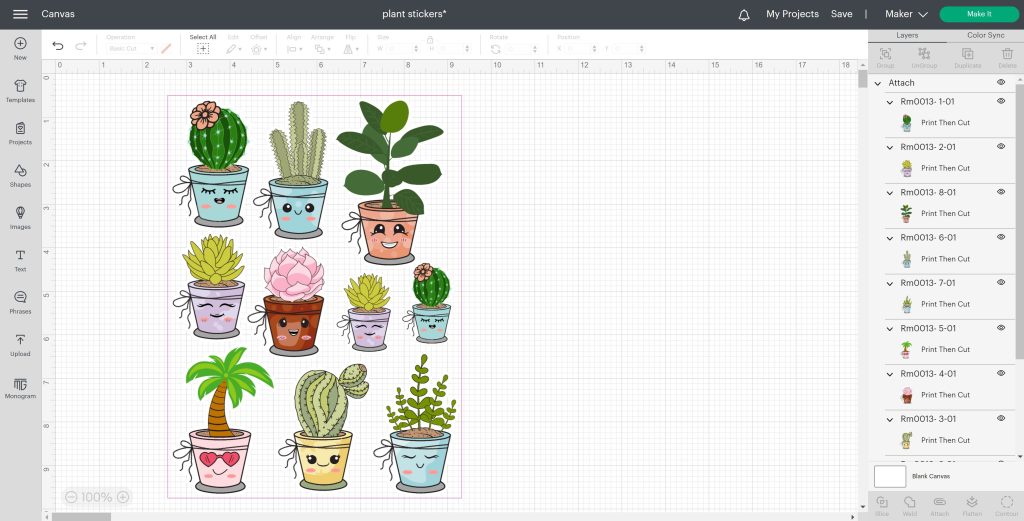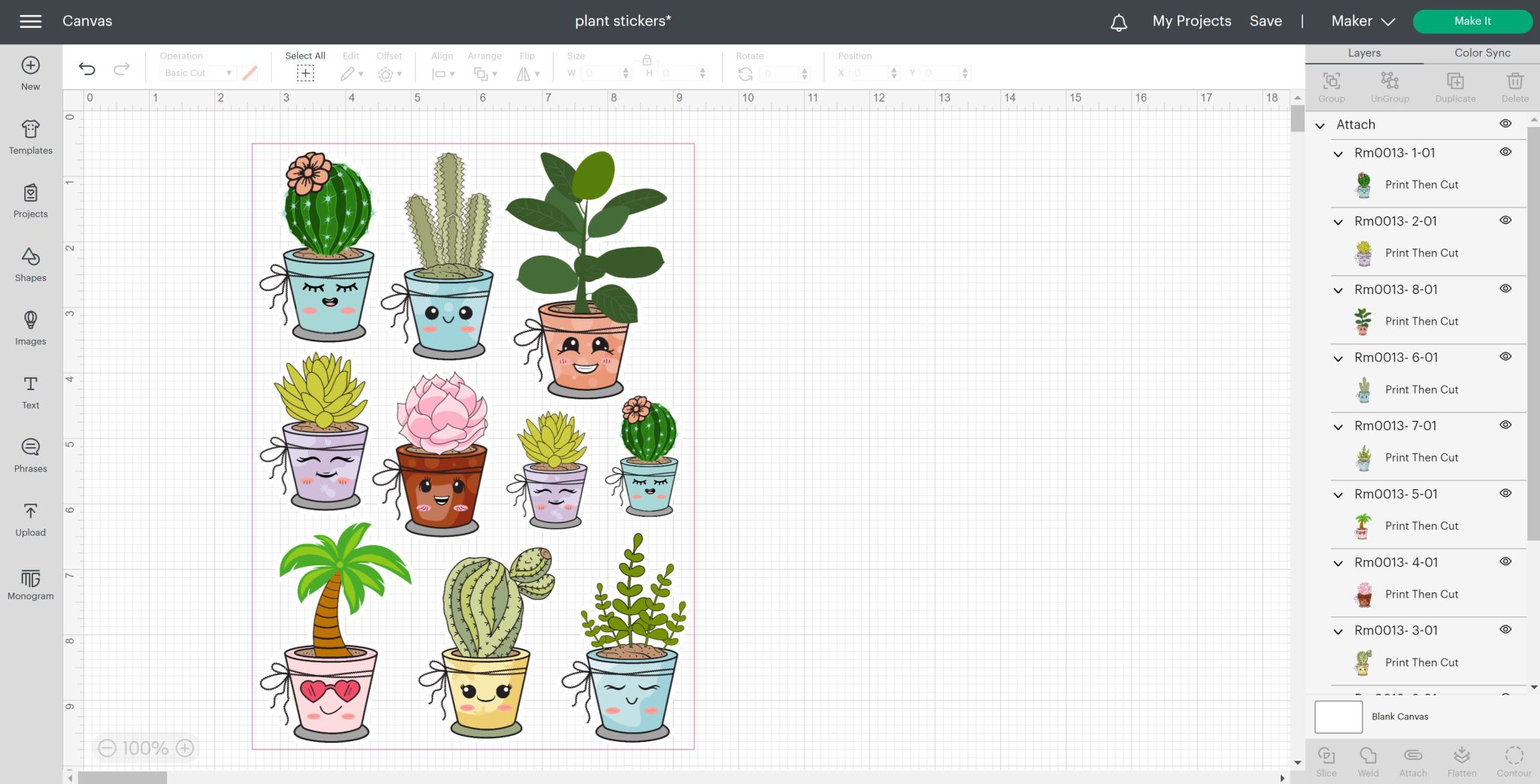 Printing Your Sublimation Print
Click the button in Design Space to print the sheet. Be sure to click the option to use the printer dialogue box. The bleed option makes no difference when you have a white offset on your stickers. I like the following printer settings for my sublimation printer:
Turn on best quality
Turn off high speed or bidirectional printing
Pick a matte paper setting
Mirror your print (Mirror in print settings OR in Design Space – NOT BOTH!)
Print the design using a sublimation printer with sublimation ink installed and use sublimation paper. I like to use a paper size that is the same size as the sublimation sticker sheets.
NOTE: You cannot print directly on the sublimation sticker sheet. You need to print on sublimation paper and sublimate it onto the sticker sheet then cut your sticker sheet in a Cricut machine. 
Pressing Sublimation Stickers
Now let's press the sticker sheet to add the sublimation design onto the sheet.
REMEMBER: Do NOT cut the sheet out of the printer! Wait until AFTER you sublimate to cut your stickers.
Clean the sticker sheet with a lint roller. The shiny side is the side you want to use for sublimation. I find that removing one of the sheets from the lint roller works best for this.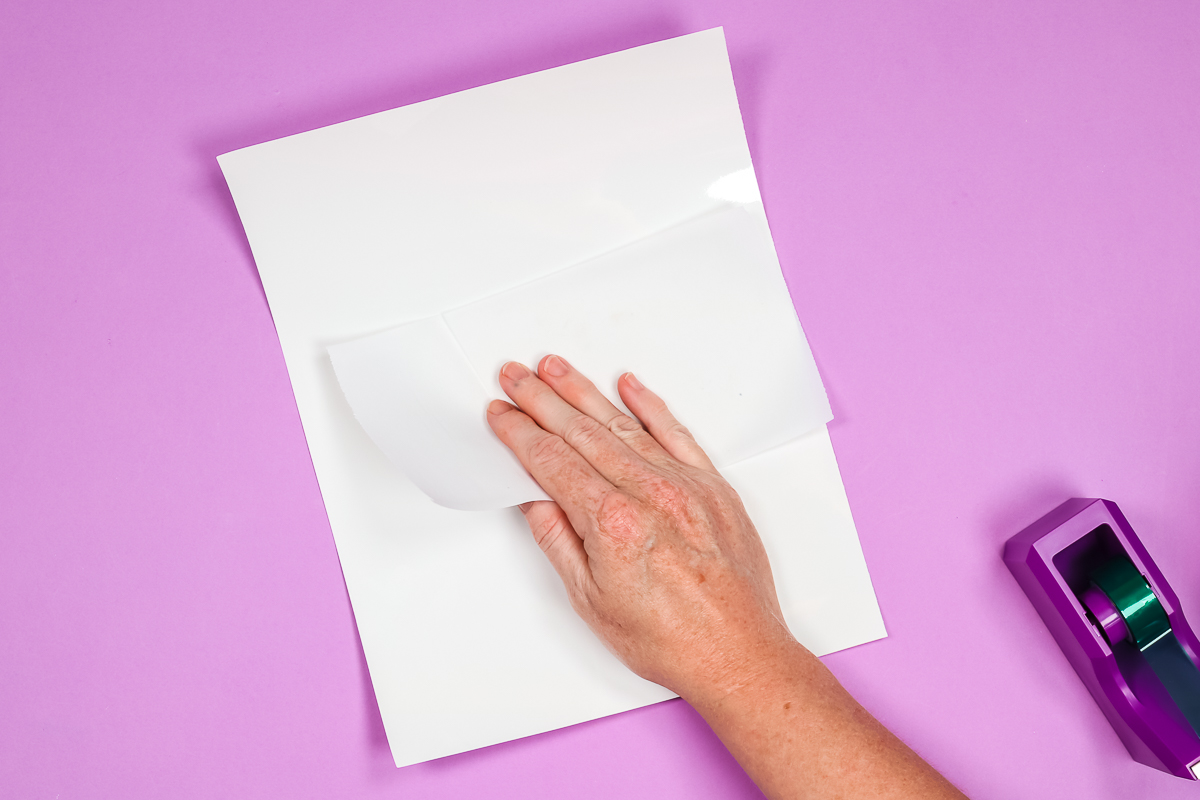 Next, locate your design face down onto the sticker sheet. The sticker sheet and the design are the same sizes. You can also get these sticker sheets in 11×17 inches and cut them in half.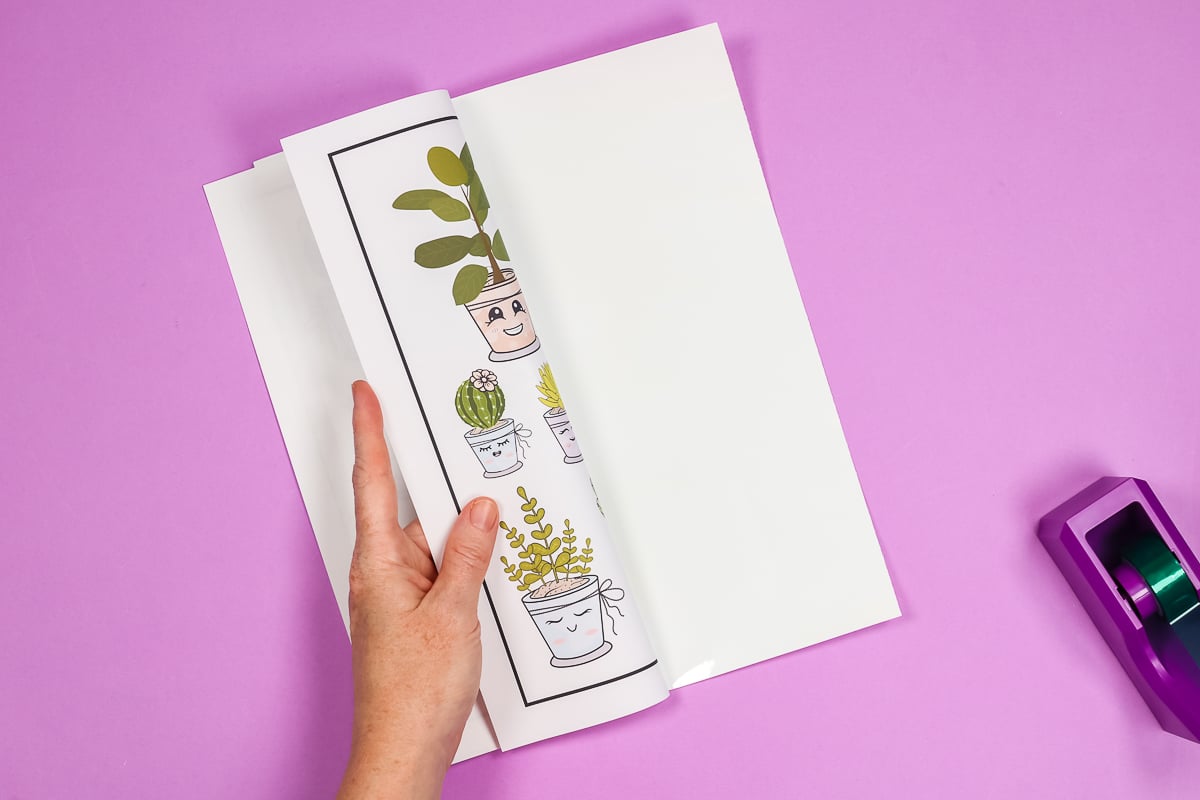 Tape down your design in a few places to ensure it does not move. Add protective paper on the top and bottom. The sublimation print does need to be on top when you put it in your heat press.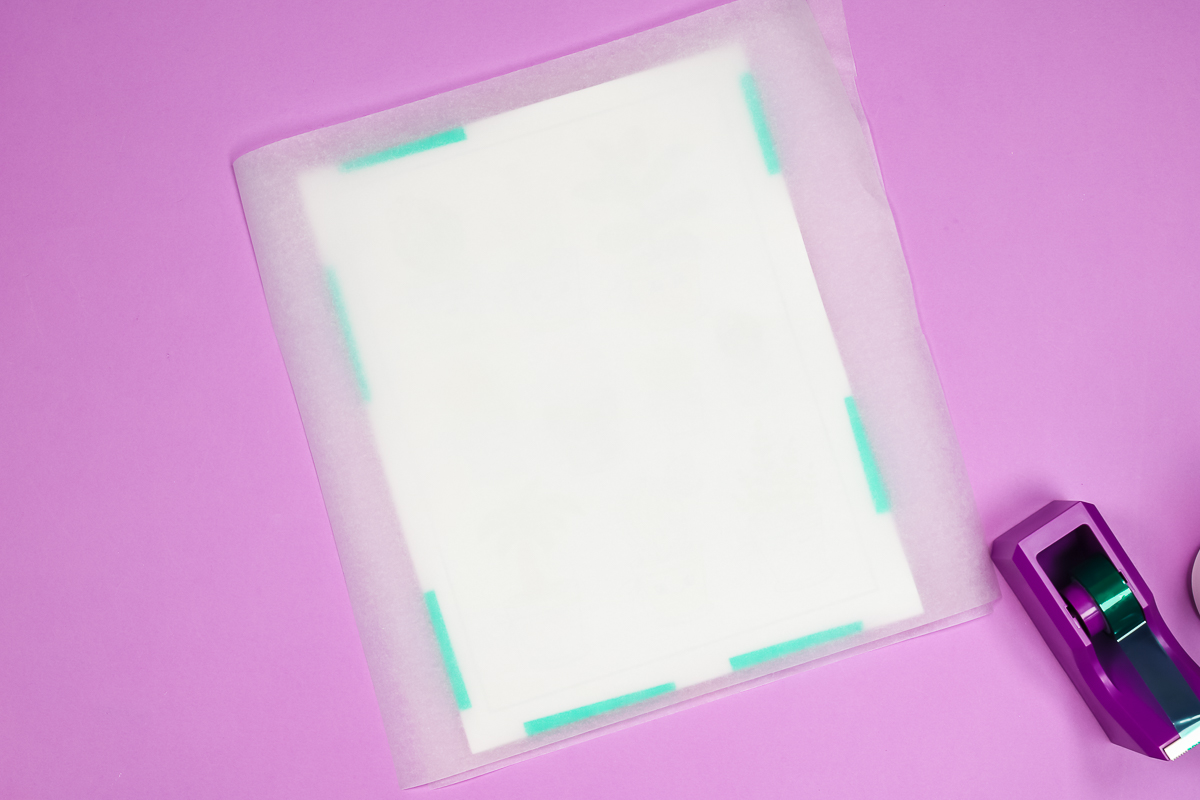 Heat up your heat press. Press these at 380 degrees for 30 seconds, medium to firm pressure. Remove from the heat press and allow to cool slightly before removing the sublimation print. I do find that these tend to curl a lot after heating.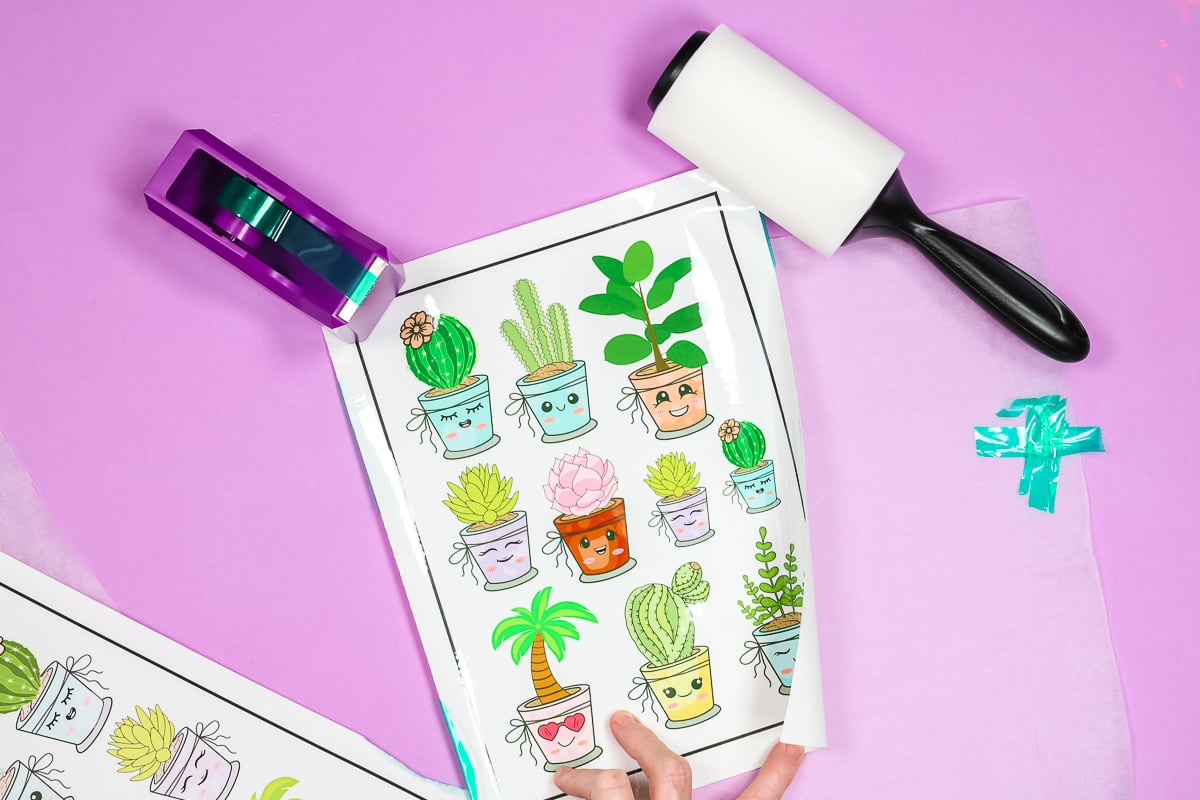 Cutting Your Stickers with a Cricut
Now you can cut your sheet into sublimation stickers! Add the sticker sheet to a green Cricut mat. I find this mat works best with the curled sheet. Use a brayer to ensure it is stuck down well. I will say the backing stuck to my green mat some so you may want to use a worn green mat or a new blue mat. Make sure the sticker sheet is in the same orientation on the mat as shown in Cricut Design Space.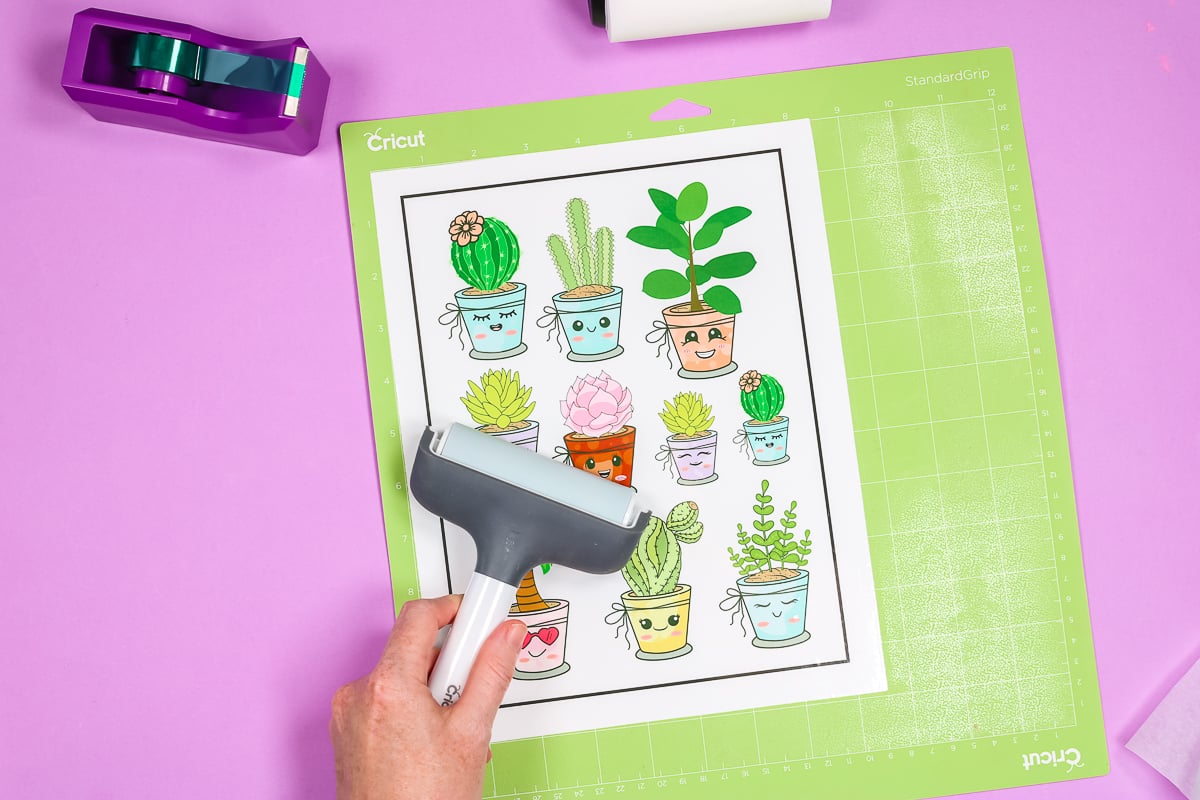 Then load the mat into your Cricut machine and let it cut around the outside of each sticker. For cut settings, I would use light cardstock, and then depending on the condition of your blade, you might need to use less, more, or the default pressure. Your machine will use the black box to locate the cuts.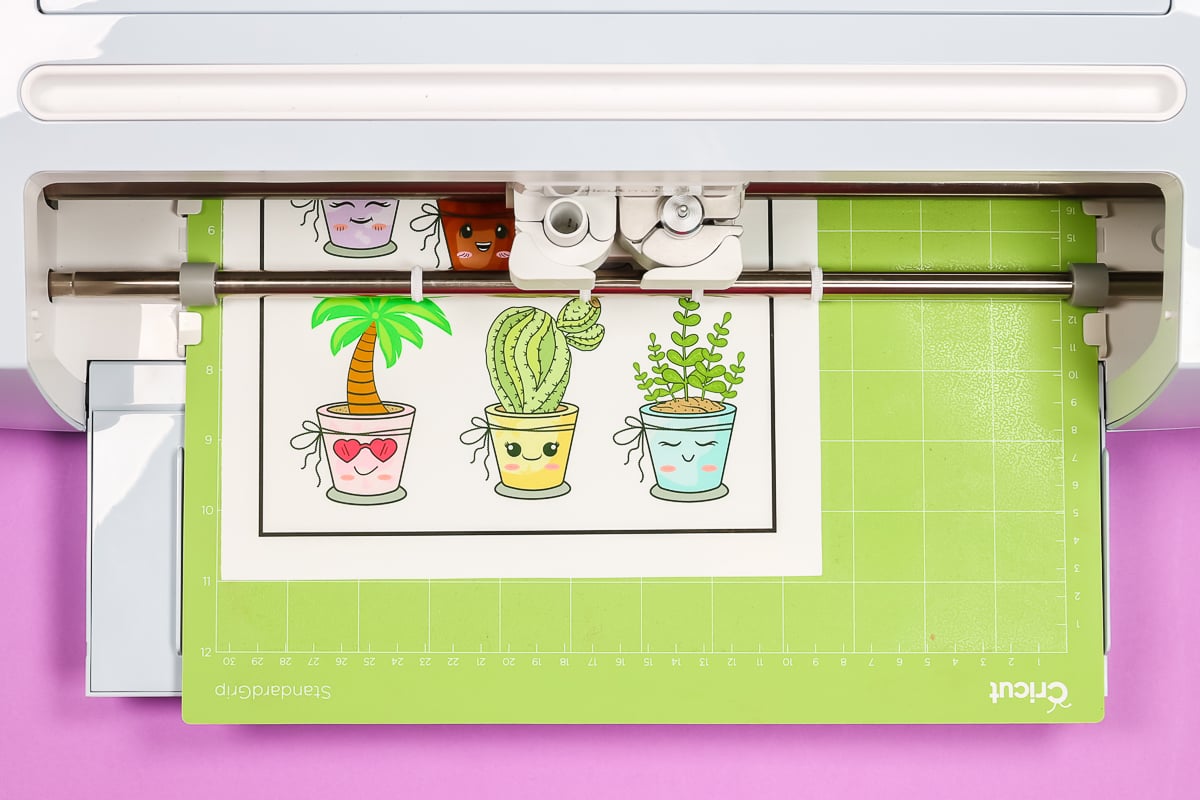 When it is done cutting, unload your mat then peel the sticker sheet off of the mat. The light cardstock setting gives you a kiss cut on your stickers. If you want to cut all the way through for a die-cut sticker, use a medium cardstock setting.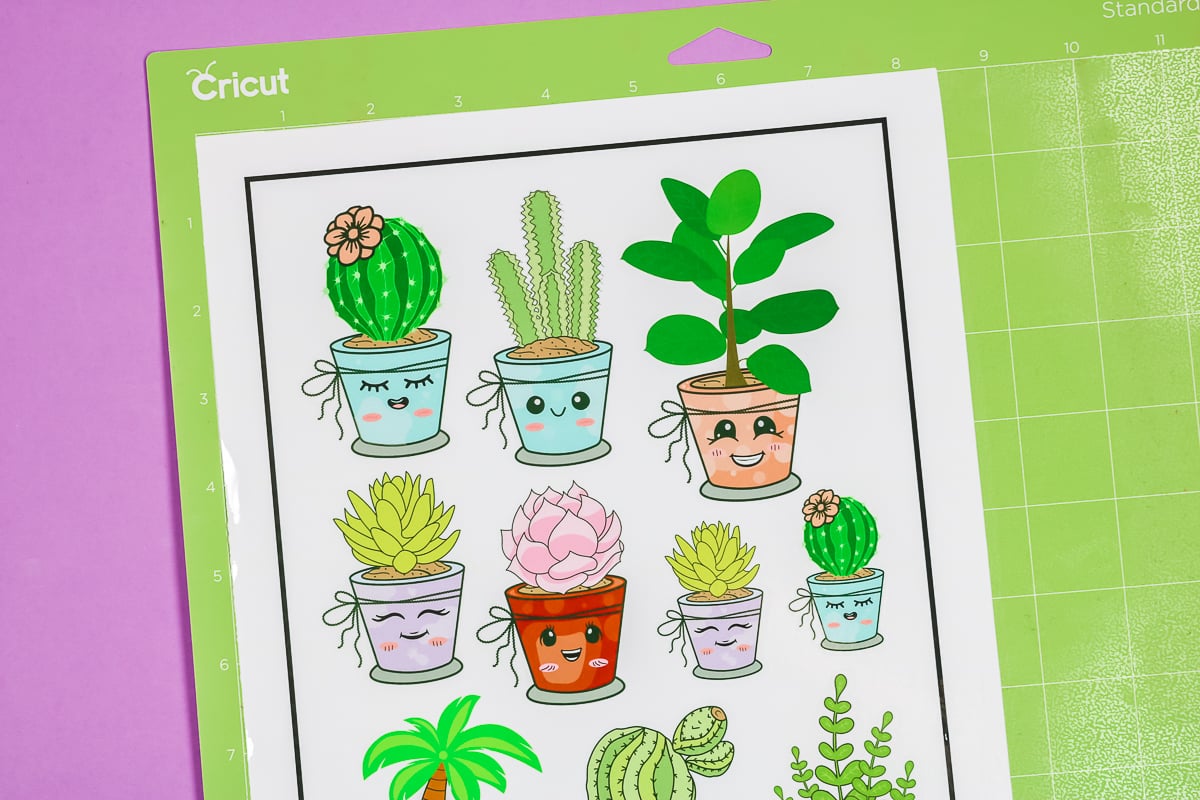 Finishing Your Sublimation Stickers
Now that your sticker sheet is cut, you can remove the excess around the outside.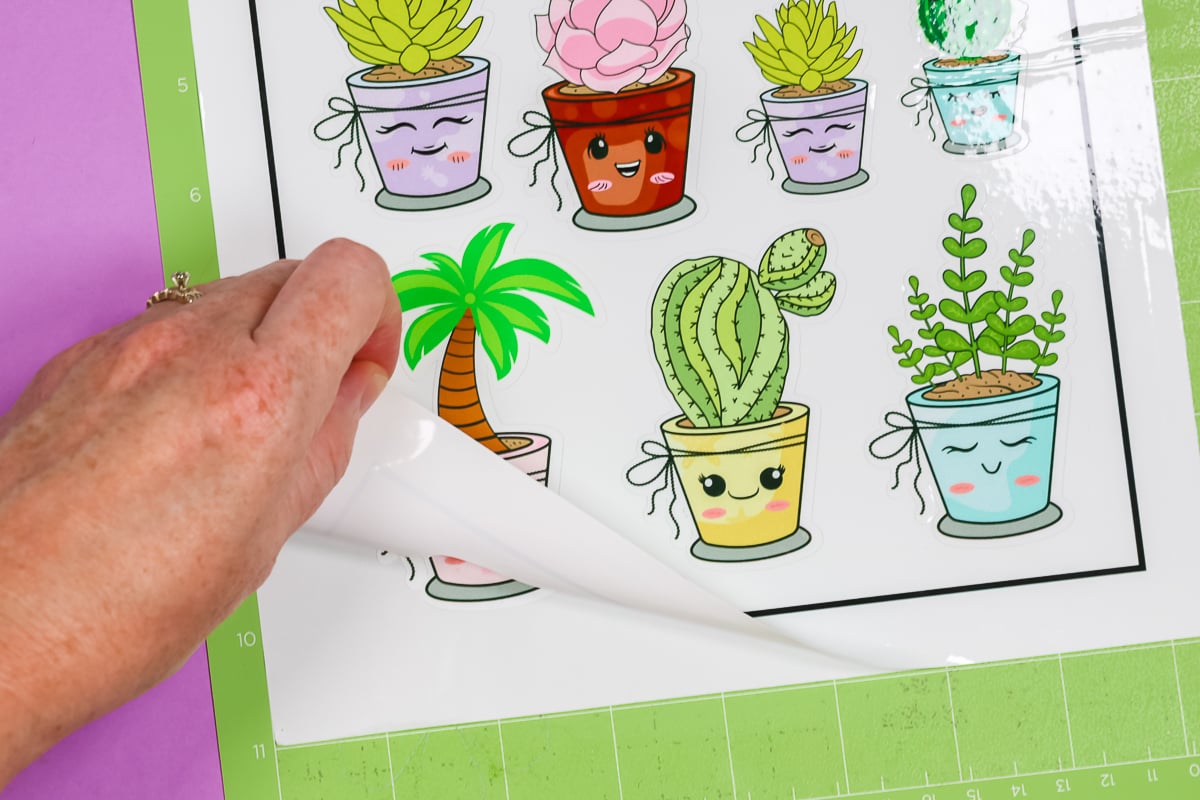 Then just peel off each of your stickers to use in your craft projects. I will say the adhesive on these sublimation sticker sheets does not appear to be permanent so I would use them in indoor applications only.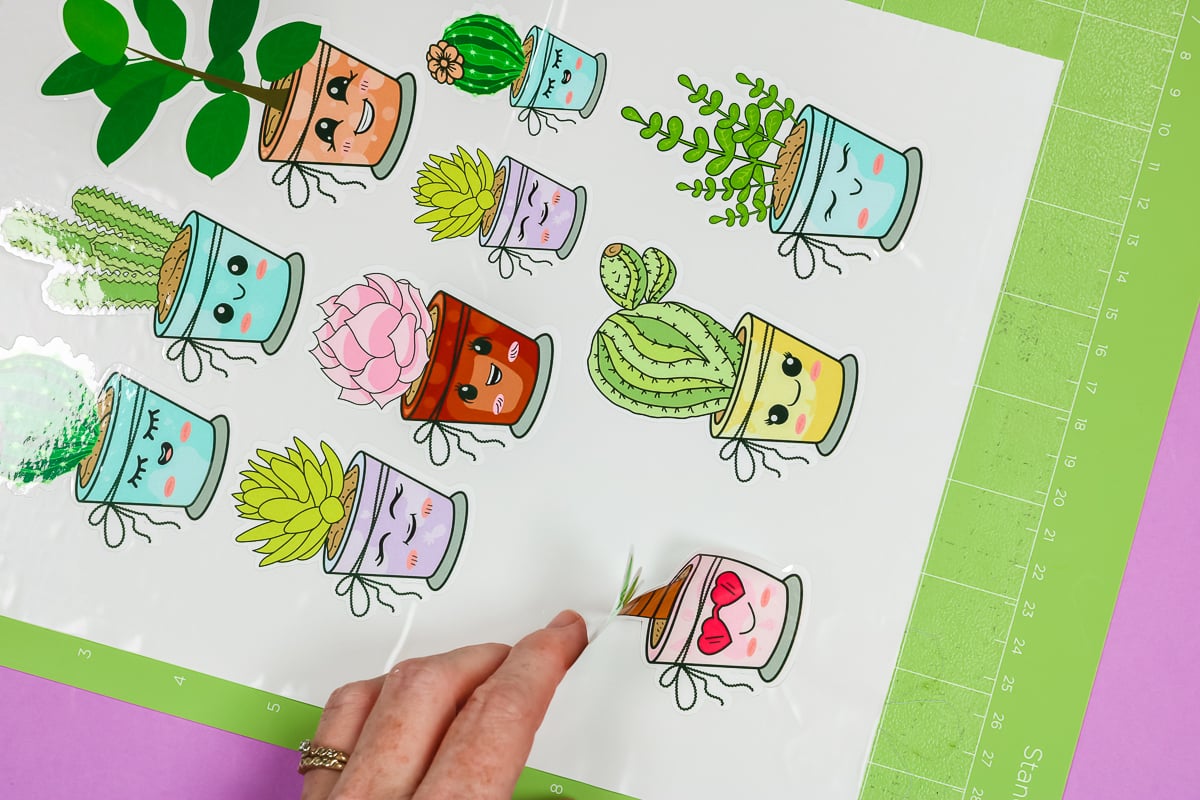 Also, the sheets are REALLY curled after removing them from the mat. I don't think these would be good for selling sticker sheets. You may want to do a die-cut and cut all the way through the backing if you are selling your sublimation stickers.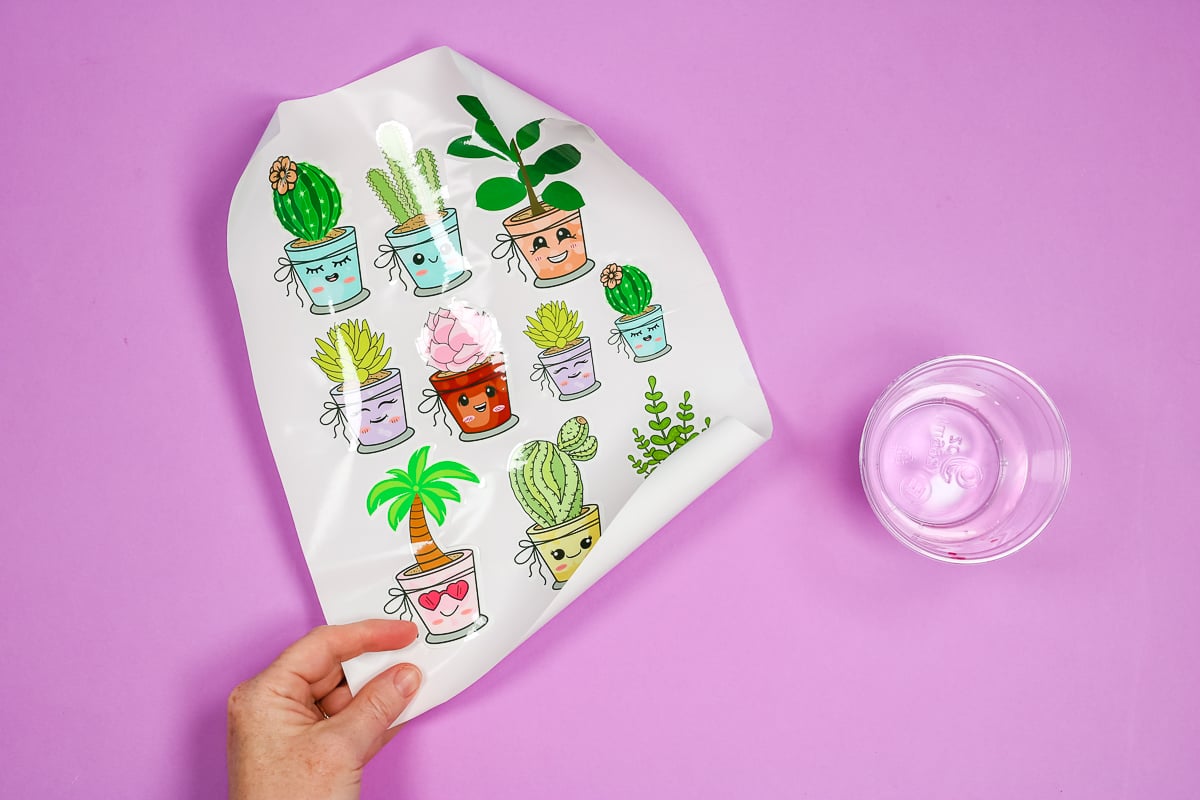 Are sublimation stickers waterproof?
Let's put them to the test! I removed one of the stickers and put it in water. I even rubbed the sticker while it was submerged in the water. The ink was permanent, waterproof, and did not smudge at all! That is definitely a bonus for making stickers with your sublimation printer.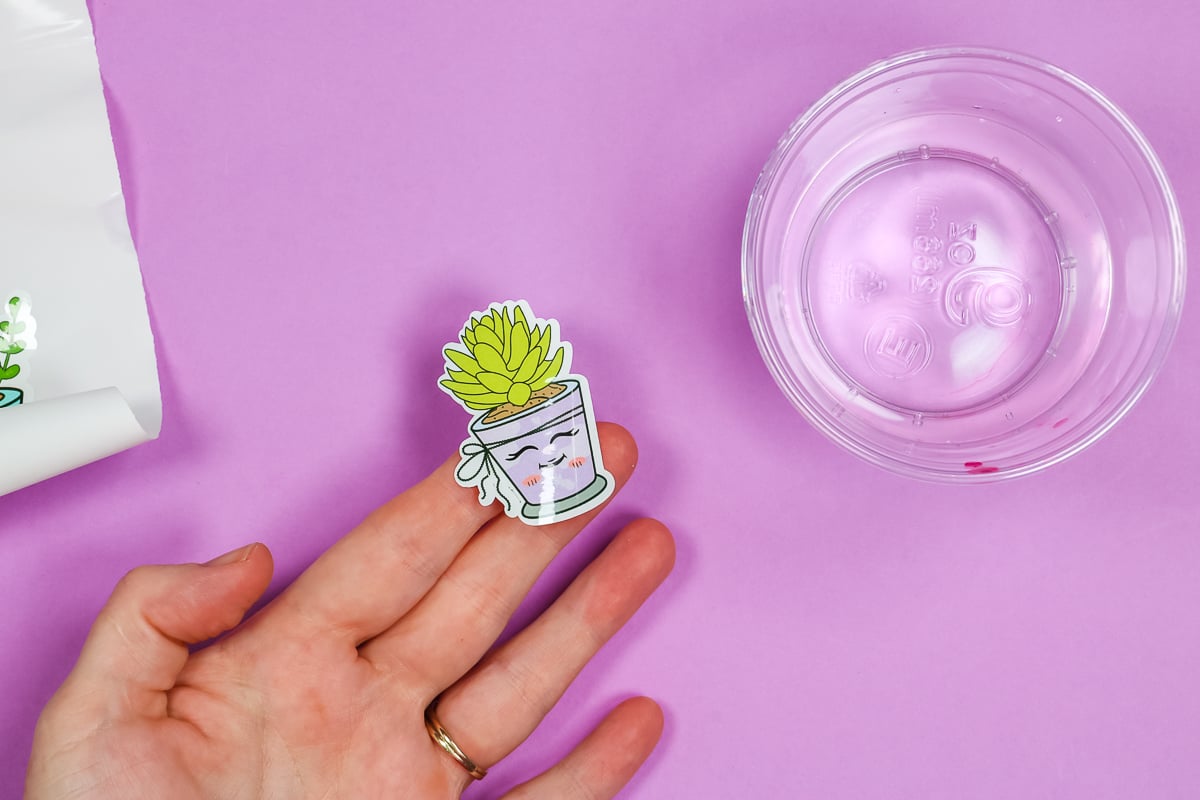 Whether you're looking to make waterproof stickers or you only have a sublimation printer and want to make stickers at home, this material is a great option for both of those cases. Plus, it's super easy to use with your Cricut machine. I love projects that combine Cricut and sublimation crafts together into one great project.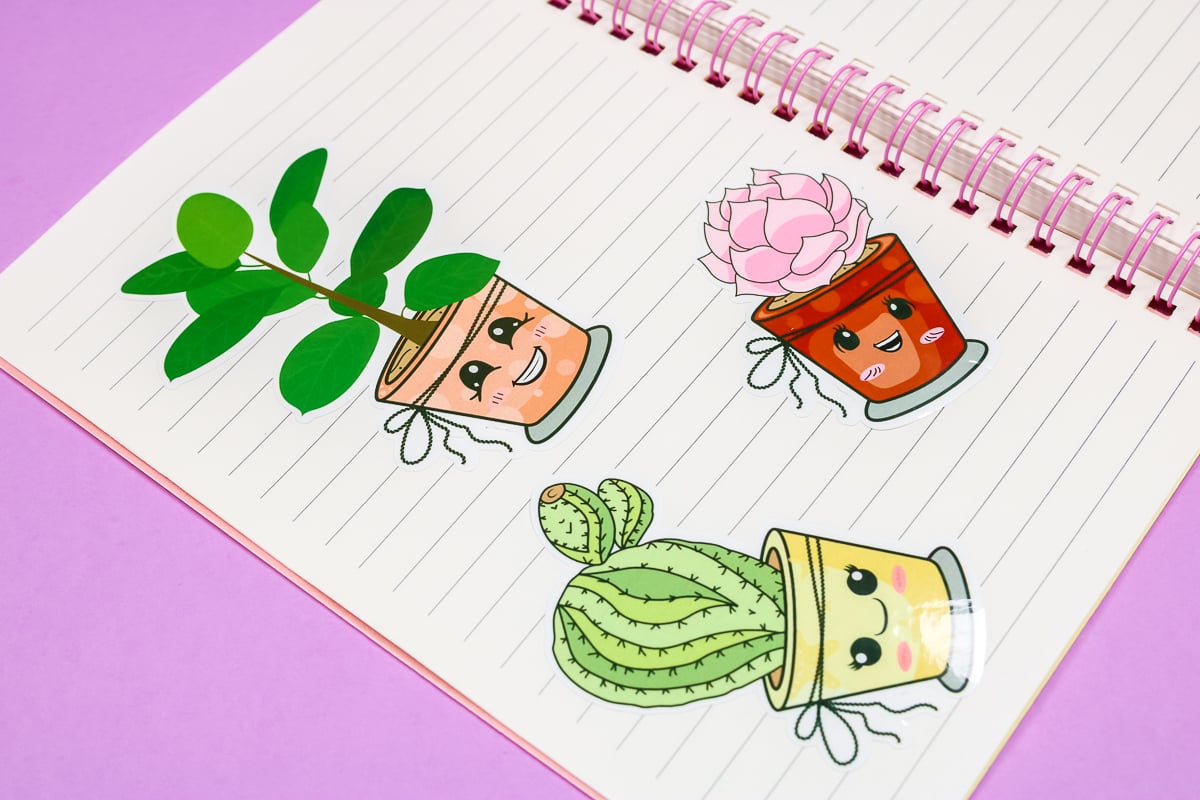 Plus, who couldn't use some cute cactus stickers in their life? Pick up your supplies and start making sublimation stickers of your very own. I really think you will love the results!