Hey there! I didn't intentionally ghost y'all last week. 😀 Tuesday was my birthday, and we had some plans for that, and then I had other fun things planned throughout the week. So I just gave up on the idea of working on the house and having progress to share with you. But I did get back to working on the bathroom on Saturday and Sunday, so progress is being made. But today is my meeting with the landscape designer, and I'm so excited to hand over my jumbled mess of ideas and see how he puts them together and makes sense of them.
I was working on the bathroom yesterday, and around 7:30pm, I had a bit of a panic. I realized that I had nothing on paper (or online) to show the landscape designer the future plans we have for the house as it relates to the lot. And I didn't have that because I didn't even know that information myself. I mean, I have general ideas, but nothing really concrete. But the last thing I want is for someone to hand me landscaping ideas based on what the back of our house and our empty lot looks like right now since we have so many changes planned.
This is what our house looks like now…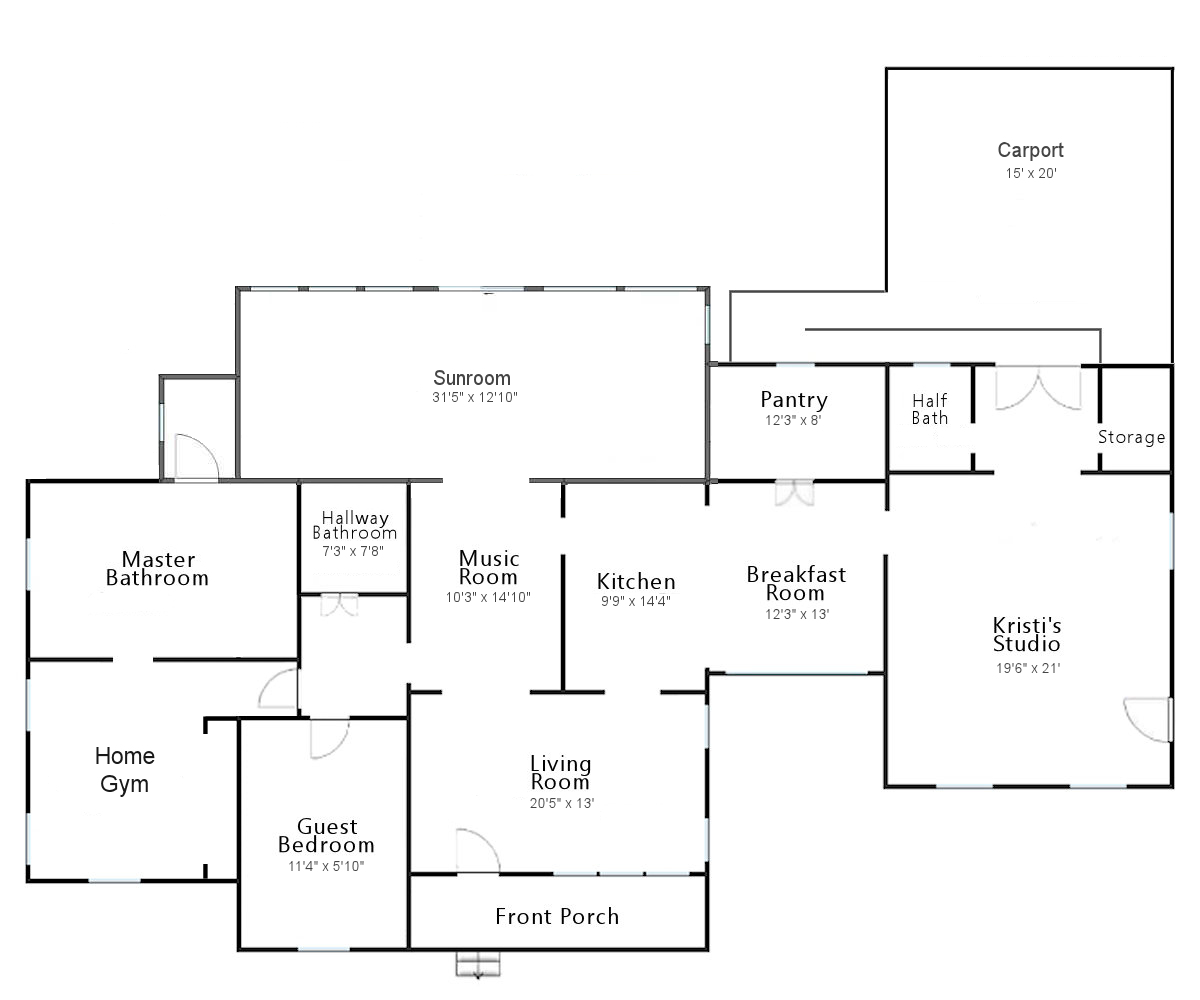 But that little room off of the master bathroom was the original master bathroom, and it's actually completely closed off now. There's no way to access it from inside the house, but it'll stay there until we build the addition. And then that huge sunroom will also be torn down.
After those are removed, we'll add on a new master bedroom, laundry room, and family/media room. So the floor plan will eventually look like this…
So I wanted to get an idea of the new layout in relation to the lot size, including things that I hadn't really nailed down, like a deck. And since we're keeping the carport as a carport, I needed to decide where I want to eventually build my workshop. (Note: There's always confusion about my studio vs. my workshop. The studio is where I have my home office area, and where I work on projects like sewing, art, etc. The workshop is where my woodworking tools will go — saws, sanders, etc. Anything that produces sawdust and mess will go in the workshop.)
After taking some very rough measurements of our lot (which is not easy to do with a 20-foot tape measure on a one-acre lot 😀 ), I got out my graph paper and started drawing. Here's what I came up with…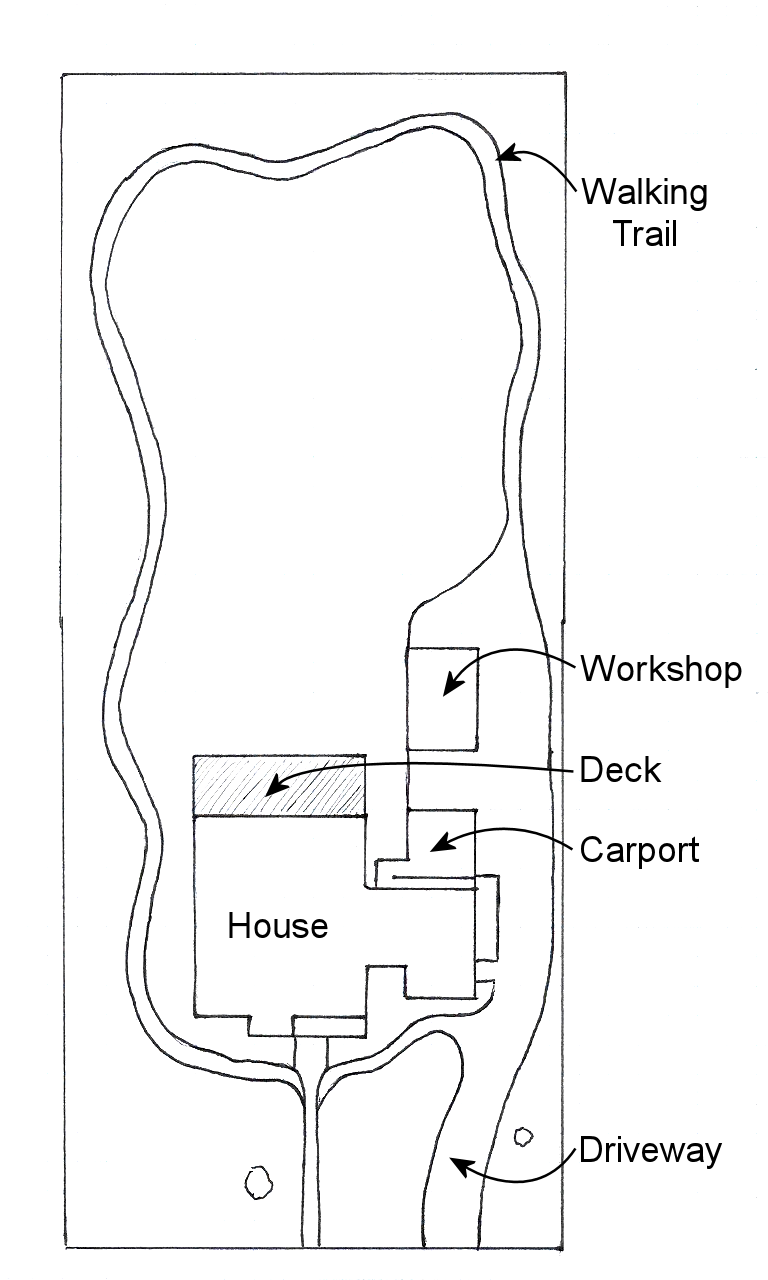 Where the back of our house currently has a lot of angles and turns, the final layout will be squared off on the back. And then off of the back of the house, I want a large deck that can be accessed from the French doors in the master bedroom as well as the French doors in the family/media room.
The driveway was originally pretty short, and was just a straight shot from the street to the front of the studio, which was originally the garage. So the new driveway (which I'm pretty sure will be gravel) will have to curve around to the side of the house, missing a pecan tree that sits to the right (and that I hope to keep since it still produces lots of pecans), to the side of the house, to the carport, and even way beyond to the workshop. Now you see why it would cost a fortune to use concrete for all of that. 🙂
As far as the workshop goes, I'd like it to be about 20′ x 30′. I'd like the back of it that faces the driveway and side fence to have a garage door on it so that I can easily get large items like full sheets of plywood/MDF into the workshop from the truck. And then I'd like a side door that's a straight shot from the back French doors in the studio for easy access that way. And then I'd like the "front" of the workshop to face towards the yard with a very cute front door, maybe a little porch, windows, etc. I want it to look like a little cottage sitting there facing the in towards the open area in the back yard.
And then you can see the walking trail circling the whole lot. I still have my heard set on that. I can envision flower beds, sitting areas, etc., all along that walking trail.
So hopefully this will give the landscape designer a jumping off point, and he can help me fill in the rest. And of course, he can tell me what kinds of plants I need to put all throughout, because that's where I get completely lost. I don't know plants at all, and I have no idea what will grow where. I'm in desperate need of some professional help. 😀
Addicted 2 Decorating is where I share my DIY and decorating journey as I remodel and decorate the 1948 fixer upper that my husband, Matt, and I bought in 2013. Matt has M.S. and is unable to do physical work, so I do the majority of the work on the house by myself. You can learn more about me here.
I hope you'll join me on my DIY and decorating journey! If you want to follow my projects and progress, you can subscribe below and have each new post delivered to your email inbox. That way you'll never miss a thing!